Warner Brothers Hires Green Lantern Writers For Green Lantern 2 And The Flash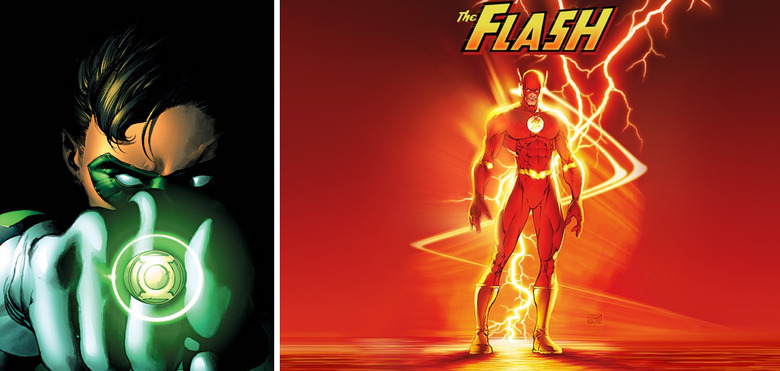 The Martin Campbell-directed Green Lantern adaptation, which features Ryan Reynolds as the titular character, won't hit theaters until June 17, 2011, but Warner Brothers is apparently so pleased with what they've seen so far, they've already hired Greg Berlanti, Michael Green, and Marc Guggenheim to get to work on Green Lantern 2. In addition, the three screenwriters have also been tasked with the script for a big-screen adaptation of The Flash.
Heat Vision reports the news and points out that "development on a second installment this far out from a movie's release date is rare." Collectively, Berlanti, Green, and Guggenheim have an impressive array of properties under their belts. Berlanti was the creator of Everwood; Green was the writer/creator of the critically-acclaimed-but-canceled NBC show Kings; and Guggenheim has worked on Law & Order, Brothers & Sisters, and is executive producer on the forthcoming No Ordinary Family.
Disney/Marvel has already announced that it plans to mine its properties for some lesser-known characters to adapt to film. Over at Warners/DC, with Superman and Batman projects already in the works, it looks like The Flash might their next major superhero project. Although The Flash has had several aborted starts in the past, Berlanti was recently rumored to be one of the front-runners for the director's chair.
Heat Vision posits that this has a great deal to do with the fact that Geoff Johns is now the chief creative officer at DC Entertainment. Johns was responsible for the 2009 series The Flash: Rebirth. It is believed that the new Flash film would be based on the Barry Allen incarnation of The Flash (also the one that Johns uses). Since Allen and Hal Jordan (AKA The Green Lantern) are known to be friends in the comics, the potential for crossover could be significant. Thus, if Green Lantern is a hit in the way that Warners is hoping, it could be the start of more than one franchise.