Rumor: Rosamund Pike As Emma Frost In X-Men: First Class?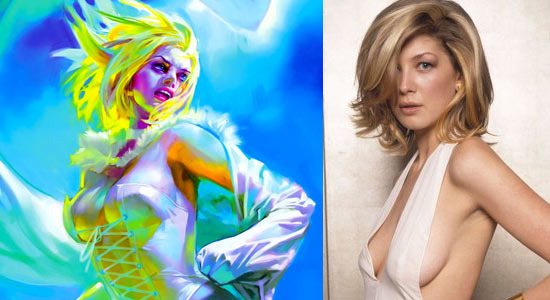 Let me first warn you: this is one of those blog posts which is based purely on very circumstantial/unconfirmed information, so please consider not much more than speculation. Remember, speculation is fun....
Could Pride & Prejudice/Surrogates star Rosamund Pike possibly be in line to play young Emma Frost in Matthew Vaughn's X-Men: First Class? Forces of Geek sources spotted Pike around Lucinda Syson's offices (the casting director who has worked with First Class director Matthew Vaughn on Kick-Ass and Stardust) carrying a copy of the X-Men: Origins Emma Frost comic book.
Very speculative indeed. To add more fuel to the "I'm not so sure about this" fire, Forces of Geek was the site that started the rumor that Olivia Munn's role in Iron Man 2 was a set-up for her to play The Wasp in The Avengers movie. We all know by now that Munn's part in the movie was not much more than a cameo. So for now, lets take this as a very VERY speculative rumor.
According to Wikipedia, Emma Frost is "an urbane, mutant telepath with a well-noted dry wit initially known as the White Queen (complete with revealing white attire for which she is known), Frost has changed from one of the X-Men's most dangerous foes to one of its most central members." Tahyna Tozzi played a younger version of Frost in the 2009 film X-Men Origins: Wolverine.
Discuss: But if true, what do you think of Pike as Emma Frost? And what do you think of Emma Frost having a lead role in X-Men: First Class?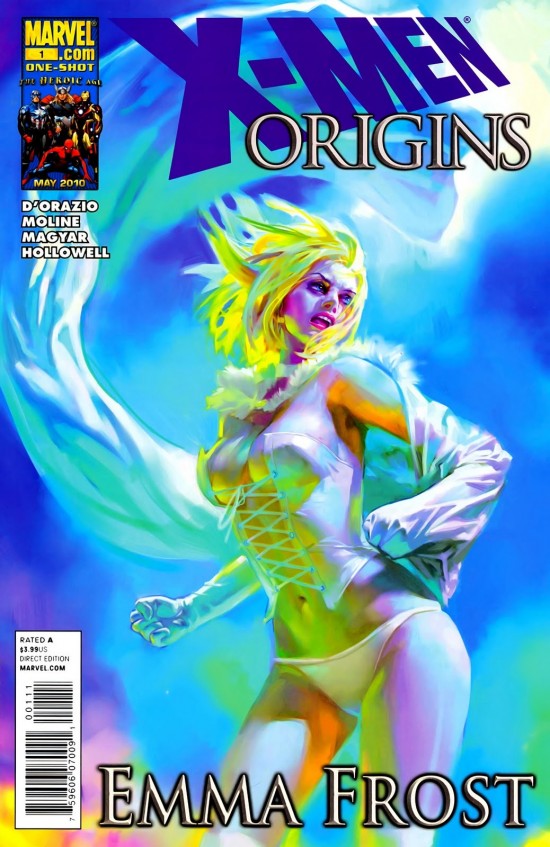 Previously:
It was most recently reported that Vaughn wants Michael Fassbender of Inglourious Basterds and Hunger for Magneto, but the actor is also being pursued to play the bad guy in Sony's Spider-Man reboot. The idea is that he can only do one or the other. Spider-Man shortlist actor Frank Dillane may also be up for a role.
A couple weeks ago, Aaron Johnson was spotted "taking a meeting" with Vaughn and newly announced First Class star James McAvoy, who has signed on to play young Charles Xavier (aka Professor X). The photo shows director Matthew Vaughn having a meeting with James McAvoy and Kick-Ass star Aaron Johnson last week in London England. We know that a week later McAvoy joined the cast of Vaughn's X-Men prequel... but what about Johnston? It is completely possible that he was just meeting up with Vaughn, as the two became friendly over the course of making Kick-Ass. But why would he be present during Vaughn's meeting with McAvoy?
Earlier this month, THR's HeatVision reported that producer Bryan Singer (who was originally supossed to direct First Class but was unable to due to his Jack the Giant Killer commitments) was using Giant Killer's casting process :as an opportunity to look for potential X-Men, vetting actors who may be qualified to play a young Cyclops or young Jean Grey." And previously it was reported that Singer had met with Johnson and Andrew Garfield about the possible leading role in Giant Killer.Is it possible that Singer met with Johnston and sent in a recommendation for the actor to play young Cyclops? Again, just wild speculation at this point.
Bryan Singer was originally attached to return to the X-Men franchise to helm this new film, but his commitment to Jack The Giant Killer at Warner Bros will prevent him from directing. In fact, it was Singer's take on the story that got Fox so excited about the project in the first place. Originally the film was going to be about a new class of mutants that would consist of some of the characters not featured in the original trilogy.
But Singer's treatment was a Str Trek-style reboot/prequel, which will focus on "the formative years of Xavier and Magneto, and the formation of the school and where there [sic] relationship took a wrong turn." Singer has previously admitted that First Class would "probably utilize some of the [planned/announced X-Men Origins:] Magneto story because it deals with a young Magneto," and that "it might supersede" that plan because this new movie would explore "that relationship between a young energetic professor and a disenfranchised victim of the Holocaust."
"It's basically about the formation of the X-Men. How they began and the relationship between a young Xavier and a young Magneto."
Here is the official plot synopsis:
X-MEN: FIRST CLASS, following the classic Marvel mythology, charts the epic beginning of the X-Men saga.  Before Charles Xavier and Erik Lensherr took the names Professor X and Magneto, they were two young men discovering their powers for the first time. Before they were archenemies, they were closest of friends, working together, with other Mutants (some familiar, some new), to stop the greatest threat the world has ever known. In the process, a rift between them opened, which began the eternal war between Magneto's Brotherhood and Professor X's X-Men.
The day after Jamie Moss handed in his first draft, Fox head Tom Rothman fast-tracked the project.  It was at this moment that Warner Bros informed Singer that they would not delay the production of Jack and the Giant Killer. Singer will still produce the project. I've heard the script is solid, and everyone who has read it is excited to make it.
Matthew Vaughn beat out eight directors to take the helm: Louis Leterrier, Jonathan Mostow, Daniel Espinosa, Rupert Sanders, Timur Bekmambetov, David Slade, and Carl Erick Rinsch.
This is a weird turn of events, as you might recall that Vaughn was originally set to direct X-Men 3: The Last Stand after series director Bryan Singer left the franchise for Superman Returns. Vaughn ended up quitting the production due to "a huge amount of studio pressure to finish the film in a very short amount of time, with a script he felt was flawed and a large amount of studio interference." Vaughn dropped out only a few weeks before filming was set to begin. And as you know, Fox was able to sign Brett Ratner to direct that sequel.
The film is set to go into production this Summer, and the studio has set a June 3rd 2011 release date.
Here are some official quotes:
"I've been a fan of Matthew's since LAYER CAKE," said Singer. "He has a deft hand with multiple characters and storylines, and a great love of the X-Men universe. I feel the combination of this story and his vision will make for an exciting and original X-Men film."
Added Twentieth Century Fox president of production, Emma Watts: "X-Men: First Class presents an exciting opportunity to further explore the history and relationships of these beloved characters. Matthew's combination of talent, verve and vision is perfectly suited to the task."
Fox is scouting locations in West Michigan. Here's the note:
A location scout is seeking out areas with a 1960's, South-American or Central American island feel for the next X-Men movie, 'X-Men: First Class.' In particular, he needs to find cafe and bar locations, evoking the Argentinian feel of Bariloche, and an Art Deco Cafe or restaurant overlooking a body of water. Additionally, the movie calls for a Miami styled harbor for yachts.