This Week In DVD & Blu-Ray: Shutter Island, From Paris With Love, Curb Your Enthusiasm (Season 7), And More
We may receive a commission on purchases made from links.
This Week in DVD & Blu-ray is a column that compiles all the latest info regarding new DVD and Blu-ray releases, sales, and exclusive deals from stores including Target, Best Buy and Fry's.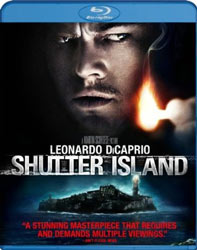 SHUTTER ISLAND
In the hands of the right person, a so-so script can become a near-masterpiece. No film provides better evidence of this than Shutter Island. It has all the trappings of a familiar B-movie thriller, but Scorsese's forceful, assured direction enhances the material immeasurably, providing it a cinematic quality that few other filmmakers have been able to achieve. Even as the writing falters, Scorsese manages to sustain the heightened drama through atmosphere alone. The music and cinematography—at once dramatic and commanding—coalesce flawlessly. Leonardo DiCaprio delivers similarly excellent work, capturing a perfect balance between the confidence and emotional trauma of his character. Together, DiCaprio and Scorsese ensure that, if nothing else, Shutter Island succeeds as pure, sensational melodrama. That would be selling it short though, as the film also thrives as a deeply intriguing character piece. Many viewers will likely fixate on the predictability and all-around lameness of the ending reveal, but Scorsese knows that the real value this sort of resolution is the way in which it can strengthen the story, so instead of trying desperately to trick audience, he put all of the impact in the character moments that immediately follow. It's a gut-punch of a finale, and one that gracefully brings the focus back to our protagonist's psychological struggle. Watching the movie again sets it in a devastating new context.
Available on Blu-ray? Yes.
Notable Extras: DVD – None. Blu-ray – Two featurettes ("Behind the Shutters", "Into the Lighthouse").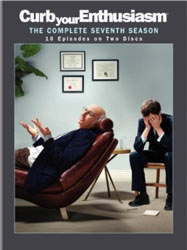 CURB YOUR ENTHUSIASM (SEASON 7)
Through failure, find success. This principle seems to have been the basis for Larry David's entire career thus far. He's managed to take all of his problematic societal hang-ups and self-involved mannerisms, as well as his outright abrasive demeanor, and use them to his advantage, harnessing their comedic potential with two separate TV shows. Season 7 of Curb Your Enthusiasm sees both of these worlds colliding, with the disappointment of Seinfeld's series finale inciting interest in a reunion, and thus becoming the catalyst for another excruciatingly comedic chronicling of the misadventures of Larry David. It may be the show's best season yet. By making it so that Larry has no actual desire to do a Seinfeld reunion—only accepting it because of the possibility it presents to get back with his wife, Cheryl—it allows the returning Seinfeld cast to reside comfortably in the background without feeling like an attempt at fan service. Similarly, the way the season plays off the history of Seinfeld and its actors is hilarious because it's almost always at the expense of the show or those involved. Larry David most assuredly has no problem with making a mockery of the famed series that he helped create, and the resulting conflicts are some of the funniest that Curb has had.
Available on Blu-ray? No.
Notable Extras: The Seinfeld Reunion: It could only happen on Curb..., Rebuilding the Seinfeld Sets, Larry David as George Costanza, and A Seinfeld Moment on Curb: Interview with Larry David and the Seinfeld Cast.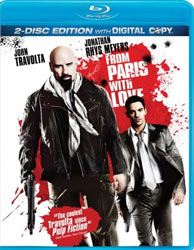 FROM PARIS WITH LOVE
It says a lot about how unappealing an action film's characters are when you can't even tell whether or not its resident ass-kicker is intended to be self-parody. As Charlie Wax, John Travolta spouts lines like "YEAAAH BOYEE" and promotes a general distaste for all things foreign, all the while taking out hordes upon hordes of guys with ease. His partner—and the central protagonist of the film—is played by Jonathan Rhys Meyers, who doesn't have a strong enough presence to bring anything to a role that requires little else than following Wax around and acting shocked whenever he does something outrageous. The movie isn't unwatchable, but there's nothing about it that's worth watching, either. It's certainly not fun. The characters are too lame, and the action is too incomprehensible. Most scenes consist of split-second shots of Travolta firing guns in random directions, guys falling down in random directions, somebody who's presumably Travolta leaping through the air or sliding in random directions, and then finally, more gunfire and guys falling down in random directions. There are a couple of almost inventive action sequences in between the mass amounts of carnage, but they amount to about 2 minutes in a 92 minute runtime.
Available on Blu-ray? Yes.
Notable Extras: DVD – Commentary with director Pierre Morel, and featurettes ("The Making-of From Paris With Love", "Spooks, Spies and Special Ops: Life Under Cover", "Secrets of Spy Craft: Inside the International Spy Museum", "Charlie Wax's Gun Locker"). Blu-ray – Includes everything on the DVD, as well as a digital copy of the film.
Other noteworthy DVD (and Blu-ray) releases this week...
Shinjuku Incident – Toe To Toe – Family Matters (Season 1) – Nip/Tuck (Season 6) – The A-Team (Complete Series) – Oceans – 180 South [DVD / Blu-ray]
Noteworthy Blu-ray-specific releases this week...

NOTES: Some deals may be in-store only. All deals are for DVDs unless otherwise noted.

$14.99 – Entourage (Season 1 – 5), The Big Bang Theory (Season 1 – 2), Psych (Season 3)
$18.99 – It's Always Sunny in Philadelphia (Season 1 – 4), Monk (Season 4 – 8), Family Guy (Vol. 1 – 7)
$24.99 – 24 (Season 7), Sons of Anarchy (Season 1), The Simpsons (Season 20)
$14.99 – Blu-ray sale: Taken, Fight Club, Quantum of Solace, The Godfather, Braveheart, Gladiator

$14.99 – Dexter (Season 2), The Tudors (Season 2)
$17.49 – Breaking Bad (Season 2)
$19.99 – Mad Men (Season 3), Fringe (Season 1), The Office (Season 5), 30 Rock (Season 3), The Boondocks (Season 2), Battlestar Galactica (Season 1), Rescue Me (Season 4), Supernatural (Season 4), Burn Notice (Season 2), Smallville (Season 8)
$24.99 – Bones (Season 3)
$14.99 – Blu-ray sale: Zombieland, District 9, Moon, The Hangover, Terminator Salvation, 2012, The Departed, The Wrestler, Carlito's Way, Wyatt Earp, Wedding Crashers, Angels & Demons, The Boondock Saints II, The Stepfather

$9.99 – Blu-ray sale: Hot Fuzz, Public Enemies, Coraline, Serenity, The Incredible Hulk, Drag Me to Hell, Jarhead, The Last Starfighter, Friday Night Lights, Forgetting Sarah Marshall, Role Models, Casino, The Kingdom, The Rundown, Love Actually, Bruce Almighty, The Jackal, I Now Pronounce You Chuck & Larry