Details On Fright Night Remake: Vegas, And A Vampire In 'The Amblin Tradition'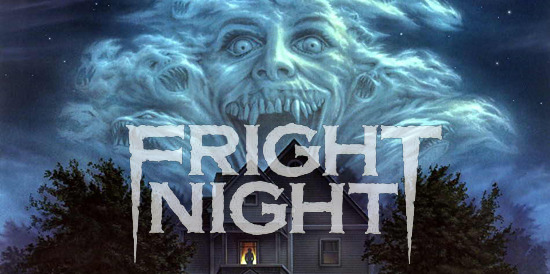 We've known a little bit about the upcoming remake of Fright Night, to be directed by Craig Gillespie (Lars and the Real Girl), but not a lot of key details. Most of what we know is background and casting: Buffy the Vampire Slayer alum Marti Noxon wrote the script, and Anton Yelchin is in the lead role as a horror fan who suspects his new next door neighbor (Colin Farrell) is a vampire. Toni Collette is also in the mix, likely as the mother of Yelchin's character.
Now we've got a few more details about the setup and tone of the film.
Variety's recent piece about women in Hollywood (via The Playlist, who noticed the mention) has a few new details about the Fright Night remake script. Specifically, it says the film is set in Las Vegas (not quite the Anytown, USA of the original) and features "a more badass vampire" than what we're seeing on screens of late. In other words, this is no daylight-sparkling, baseball-playing romantic wanker. Screenwriter Marti Noxon says,
He's a much more 'Jaws'-like vampire in the Amblin tradition...
That could mean a lot of things, really. What I take out of that quote is that the monster is determined, violent and seemingly unstoppable. But the 'Amblin tradition' also suggests that the full nature of the monster will be revealed gradually, and that it will be a significant character in its own right. (So, just like the original film, then.)
There are still some rumors about the other content of the film, which has been said to be fairly meta. That is, in the original, the vampire was played by Chris Sarandon, and the main character fought him with the help of an aging TV movie show host. We've heard that the remake features Chris Sarandon playing himself, and that he'll be the one helping Anton Yelchin's character fight the vampire. (If anyone can really confirm/deny or pass along the script, please do so.)
Update: Thanks to those who emailed. And Ryan at STYD just posted news that the Peter Vincent character (the former actor/aging TV host) is now "a Criss Angel-type. A master showman," which makes a lot of sense given the Vegas setting. No Chris Sarandon meta-role. Probably no Chris Sarandon at all, unless he has a cameo.
In addition to Fright Night, Noxon is lining up her directorial debut. She's putting together financing for Box City, and currently has Susan Sarandon, Topher Grace and Zooey Deschanel lined up to star. This first came to light last summer, and there hasn't been much new info since, but Deschanel is a new addition since we heard about any attached cast.