John Carpenter Preparing To Direct Hilary Swank In Fangland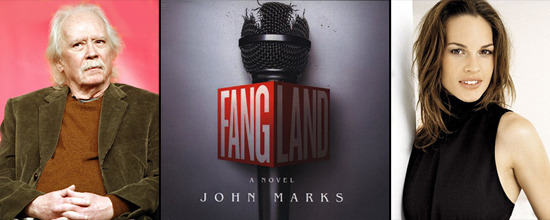 John Carpenter last had a feature in theaters in 2001 with Ghosts of Mars, but he's been working his way back to the multiplex in the long years since. There were a couple of episodes of Showtime's Masters of Horror series, for example. And he's got the feature The Ward, starring Amber Heard, in post-production right now.
Now Carpenter will take on vampires once again with an adaptation of the novel Fangland, which is an update (of sorts) of Bram Stoker's original Dracula.
ComingSoon says that not only is Carpenter putting together the adaptation of Fangland, but that Hilary Swank is set to star. That's a bit of clout for Carpenter, as far as the mainstream goes.
Swank would play Evangeline Harker, assistant producer to a 60 Minutes-like TV news show. (Fangland author John Marks is a former 60 Minutes producer.) She goes to Romania to meet a famed gangster and things start to get weird. Vampires (or vampir-ish characters) are only a part of the equation. The New York Times called the novel "a Romanian "Bright Lights, Big City," and said "the stars of the [news] show are portrayed as being only slightly less self-involved — and decrepit — than the vampire himself." (The paper also called the novel "gruesome and silly," criticizing the horror movie cliche behavior of Evangeline Harker.)
This is Amazon's description of the novel:
Professional and personal aspirations collide when Evangeline, an ambitious associate producer of The Hour ("the most successful news show in American television history") accepts Robert's wedding proposal just before jetting off on an assignment she would rather dodge. Her uber-producer dismisses her protestations, so it's off to Transylvania to evaluate a possible story on Romanian reputed crime lord Ion Torgu.
Oddly enough, this is the third project of Carpenter's in the past decade to be a collaboration with a movie website writer. His Masters of Horror episodes were co-written by Drew McWeeney of HitFix and formerly AICN, while Fangland is scripted by Mark Wheaton, once a writer for CHUD.