Casting Notes: Willis, Whitaker And Akerman In Catch .44; Jeff Fahey In Dadgum, Texas; Jennifer Lawrence And Max Thieriot In House At The End Of The Street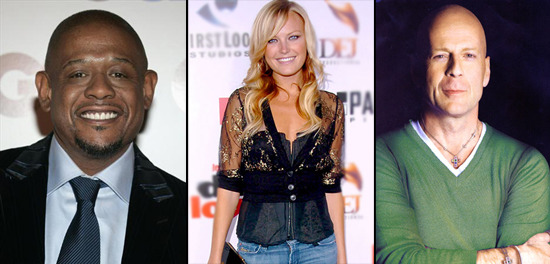 Must be great to be a new feature director and end up with a cast like this: first-timer Aaron Harvey is directing Catch .44, and he's got Bruce Willis, Forest Whitaker and Malin Akerman on board to star.
The film is about three women, led by Akerman, who get tied into a weird scenario involving "a psychopathic hitman, played by Whitaker, a grizzled trucker and a delusional line cook. Willis will play the head crime boss, the mastermind behind everything that happens." The name is a little cutesy, and the plot sounds like it could go either way...but Willis and Whitaker? Yeah, that's good enough to start with. [Variety]
After the break, Jeff Fahey gets a new role, and a horror thriller with delusions of Hitchcock casts up.
Fresh from the end of Lost, Jeff Fahey has been cast in Dadgum, Texas. Charles Huddleston will direct Fahey opposite Michele Martin, who plays a young woman about to get married. But the day before her wedding turns out to be a disaster when, among other things, the store with her wedding dressis held up by bumbling bandits. Fahey isn't one of those dumbells, sadly; he plays the girl's father. Dana Wheeler-Nicholson plays her mom, and Peggy Stewart her 'feisty' grandmother. No word on the robbers, yet. [ComingSoon]
Horror thriller House at the End of the Street is starting to cast up, with Jennifer Lawrence and Max Thieriot starring. The story follows "a teen girl (Lawrence) who moves with her mom to a new town and learns that their home is across the street from a house where a double murder took place. Complications ensue when the teen befriends the massacre's sole surviving son (Thieriot)." I can deal with that and was OK with the whole idea until I read THR's blurb that the idea is for this to be to Psycho what Disturbia was to Rear Window. Mark Tonderai directs.