Movie Trailer: Norwegian Ninja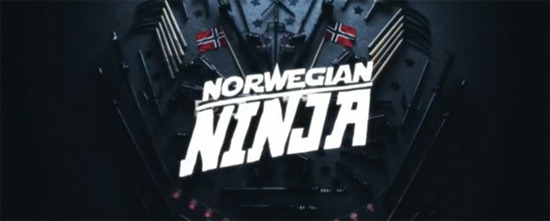 This. Is. Awesome.
The producers of Dead Snow have enabled the creation of Norwegian Ninja, which is actually, amazingly, sort of based on a true story. In real life Arne Trehold was a Norwegian diplomat exiled after being convicted of working for the Soviets during the Cold War. In the film, he's not a spy, but a patriotic, heroic leader of a ninja clan.
Writer-director Thomas Cappelen Malling makes his feature debut with this one, which caused a stir at Cannes. Watching the trailer it's easy to see why. I get a vibe akin to what you might get by applying the Black Dynamite sensibility to '70s Euro-crime and martial arts knock-off films. This trailer has all sorts of excellent little touches, and if the jokes and action flow as freely in the full feature, this could end up as a cult staple.
Mads Ousdal plays the very fictionalized Arne Treholt, and Trond-Viggo Torgersen (last seen in O'Horten) plays King Olav V.
Here's the synopsis, via Twitch, which also provides the trailer:
Kommandør Treholt & Ninjatroppen is the true story of how Commander Arne Treholt and his Ninja Force saved Norway during the Cold War. The story takes place in the time right before Treholt's arrest on espionage charges in 1984, and reveals a spectacularly different version of our recent past than has been previously known.