Casting Notes: Joseph Fiennes And Eva Green In Camelot; Amy Ryan Joins In Treatment; James D'Arcy In W.E.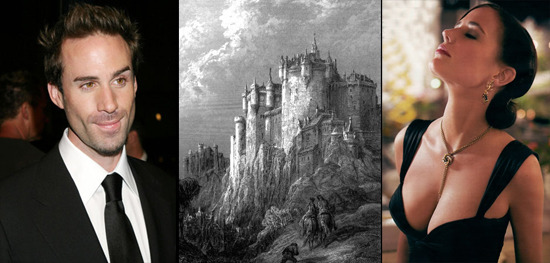 Joseph Fiennes and Eva Green will travel back to Camelot, the Starz series that re-tells the story of King Arthur. Fiennes is Merlin, while Green will be Morgana. Solid casting with both, though I'm not certain that I'll ever be able to look at an Arthurian film or TV series without having to leap the hurdle of some of Excalibur's actors. Nicol Williamson and Helen Mirren are pretty difficult to top as Merlin and Morgana. In this Camelot Jamie Campbell Bower is Arthur, and Tamsin Egerton is Guinevere. [Reuters]
After the break, the great Amy Ryan goes back to HBO and Madonna's possibly interesting new film finds its last major player.
Amy Ryan will appear opposite Gabriel Byrne on the next season of HBO's In Treatment. She'll play the therapist to  Byrne's Dr. Paul Weston, also a therapist. Essentially, Ryan's character steps into the narrative position vacated by the departing Dianne Wiest. Great news for the show — you can't ask for someone much more capable than Ryan, and she should be ideal in this role. [Deadline]
We've talked about the casting for Madonna's ambitious new film W.E., which features parallel narratives about, on one hand, the marriage of King Edward VIII to socialite Wallis Simpson and, on the other, a married modern woman who falls for a security guard at a Sotheby's auction. Madonna recently told Interview that "the Duke and Duchess of Windsor are in the movie, but it's not going to be about them. It's really about this other woman's journey, and the duchess is kind of her spiritual guide...It's set mostly in pre-World War II England – like, 1936 to 1937 – and then in New York in 1998. It goes back and forth in time. I use the Sotheby's auction in 1998 of the Duke and Duchess of Windsor's estate as a device to flash backward from."
Anyway, James D'Arcy is now playing King Edward VIII — the role once earmarked for Ewan McGregor. Andrea Riseborough is Wallis Simpson, and Abbie Cornish and Oscar Isaac are the modern lovers. (But not Jonathan Richman. Sorry, couldn't resist.) [The Playlist]