Jeremy Renner In Final Negotiations To Join The Avengers; What About His Role In Paul Thomas Anderson's Next Film?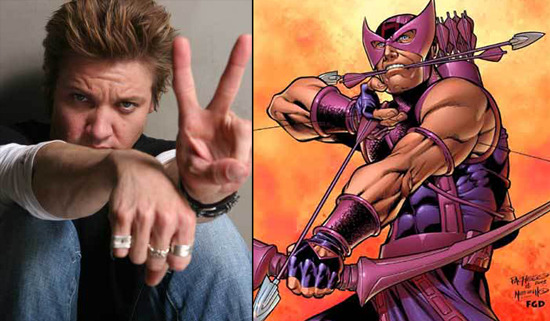 Man, the past twenty-four hours have been all Marvel, all the time. From Captain America and Thor concept art to more Cap casting and now this confirmation of a rumor that started around Thanksgiving of last year: Jeremy Renner is close to signing a deal to appear in The Avengers as the hero Hawkeye.
This came up last November, when Renner mentioned that he'd talked to Marvel about the part. ("Hawkeye could be interesting. They're going to send me some stuff on it, see what it is.") But he quickly backed away from the idea, and later said the movie was too far off to really consider.
Now there's a director (Joss Whedon) and things are moving into pre-production, so evidently that is enough. THR says this won't be a cash cow, however — to keep costs down, everyone is taking a pay cut.
But there's a shadow of bad news. Renner has recently seemed like a lock to play the second male lead in Paul Thomas Anderson's The Master, but in the wake of Universal passing on the film, it appears that financing isn't coming together. THR says "while he still has definite interest in Anderson's film, that project is still cobbling financing and has seen its start pushed back several times."
The good news, however, is that Hawkeye is evidently a small enough part that Renner could conceivably to both The Avengers and The Master, should PTA's film be able to start actual production.
From a previous report, here's a little history on Clint Barton, the original Hawkeye, now called Ronin. Note that his inspiration to become a superhero was Iron Man and he was close with the Black Widow. Note also that became an Avenger by breaking into the group's headquarters; that sort of character note is right in line with the self-confident lone wolf operator Renner played in The Hurt Locker. From the Marvel Universe guide:
Clint Barton was orphaned at an early age when his parents died in a car accident and was sent to a children's home with his brother Bernard. He and his brother ran away to join the Carson Carnival of Traveling Wonders, and the pair worked as roustabouts...Hawkeye was trained by the original Swordsman (Jacques Duquesne) and Trickshot. Clint's life, however, would forever be changed after he stumbled onto the Swordsman counting the money he had just robbed from the carnival. The Swordsman offered Clint to become his partner in crime, but Clint rejected his mentor, sparking a fight that ended when the Swordsman left him for dead after he fell from the high wire.
Clint wandered the country, working in various carnivals or otherwise making money out of the costume and persona of "Hawkeye". One day, when witnessing Iron Man save the lives of some people at the carnival, he decided to become a costumed crime-fighter himself....He soon met the Black Widow, who was working at the time as a costumed villain for her country, and she easily seduced the hot-headed adventurer, making him think it was in his interest to defeat Iron Man...Instead, he hoped to join Iron Man's team of Avengers. As a way of proving himself, he broke into the Avengers Mansion and convinced their butler, Jarvis, to play the role of a victim so he could display his powers. Iron Man vouched for Hawkeye, and he joined the new line-up that included Captain America, the Scarlet Witch, and Quicksilver.