Daniel Craig In Talks To Star In David Fincher's The Girl With The Dragon Tattoo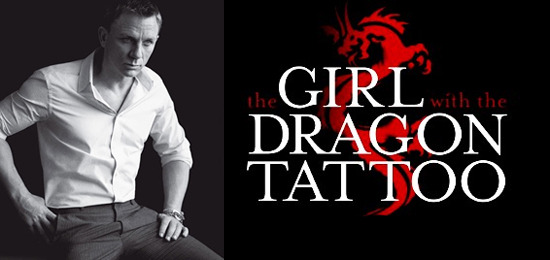 In the past couple weeks, the most widely-reported word on David Fincher's remake of The Girl With the Dragon Tattoo was that Brad Pitt was waiting on Steve Zaillian's first script draft, which was turned in on June 1. The belief was that Pitt was going to make a decision about starring in the film after reading the script.
But now Daniel Craig is in early talks to star as journalist Mikael Blomkvist in this film and two more, the latter possibly shot back to back, adapting the full span of Stieg Larsson's Millennium series.
The Wrap and Deadline both report that Craig is in talks, and we'll go with Deadline's more conservative take that things are at the early stages and there's nothing like a deal in place yet.
Meanwhile, pretty much every ambitious young actress in Hollywood has been on a wishlist for the lead female role, Lisbeth Salander. Carey Mulligan has been loosely linked to it, and then Ellen Page, Mia Wasikowska, Natalie Portman, Keira Knightley, Olivia Thirlby, and more are names that have been thrown around as well. But there was a report that Fincher wanted an unknown; at this point, we don't have any reliable info on this aspect.
So can we infer that Brad Pitt didn't love the script? Or does he not want to be tied to a series of three films? Craig is a better fit for the part regardless, so this is good news. And with Bond 23 on hold, once Cowboys & Aliens wraps, Craig would probably be happy to have something as high-profile as The Girl With the Dragon Tattoo to keep him busy until Bond can get back on track.