Producer Shopping Rush Limbaugh Biopic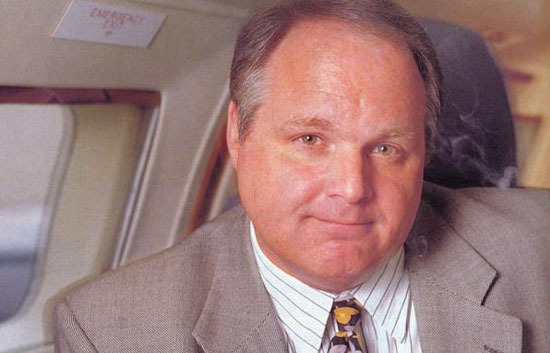 This probably won't be fair and balanced. Writer/producer James Sciafani has scripted a film about conservative pundit and talk show host Rush Limbaugh — aka one of the most popular radio personalities in America — and is shopping the film around for financing. But the movie isn't likely to be terribly sympathetic to Limbaugh, as Sciafani is a Democrat who describes the film as "Citizen Kane meets Private Parts." What, no love for Talk Radio?
Deadline says the film is based on the unauthorized biography The Rush Limbaugh Story: Talent on Loan From God, which was written by Paul Colford. Sciafani compares the tone of the script to Oliver Stone's film W., and says it "will include contradictions that have gone against [Limbaugh's] radio diatribes, from the dubious 4-F draft status during Vietnam (unearthed in Colford's book) to a get-tough stance against drug abusers that was contradicted by the revelation that he himself was addicted to prescription painkillers and got them illegally."
If the whole film takes place as flashbacks seen by Limbaugh in a painkiller haze, I'll be thrilled. That probably won't happen, but here's how Sciafani describes it in more detail:
This is Citizen Kane meets Private Parts, where you have a man who always had trouble relating to people in the outside world, but does it effortlessly in the booth...When he came up in radio, he was culturally opposed to everything happening in the 60s and 70s, and all this left him with something to prove. He is an underdog, and became an extremely determined person with something to prove.
So who plays Rush? I've seen Kelsey Grammar's name mentioned, which would be awesome in a way. Toby Jones would possibly be great. Every other sizable white male actor is also going to have their name thrown into the pool, willing or not. If Kevin James wants to make a play at a dramatic acting career, this might be his Man on the Moon. (Hint, the role probably won't go to Michael J. Fox.)
Limbaugh is not currently involved, but Sciafani plans to pay approach him in the future.