Casting Notes: Paul Rudd In My Idiot Brother; Jason Patric In Tilda; Katia Winter In Deathgames; Kiefer Sutherland In Growl?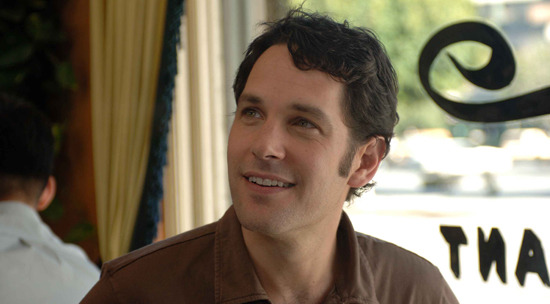 Paul Rudd will star in My Idiot Brother, an indie comedy that will have the actor as "an idealist, dealing with his overbearing mother, who crashes into the homes of his three ambitious sisters and, in succession, brings truth, happiness and a sunny disposition into their lives while also wreaking havoc." Is it any wonder that producers of Little Miss Sunshine are behind this one?
Jesse Peretz directs from a script by Evgenia Peretz (his sister) and David Schisgall. The sisters aren't yet cast, but we should hear those names soon, as the film shoots next month. [THR]
After the break, new cast for Tilda, Deathgames, and a 'Fight Club meets werewolves' movie.
Katia Winter now has the lead female role in Deathgames, which already stars Kellan Lutz, Daniel Dae Kim and Samuel L. Jackson. She'll be "a duplicitous succubus" who is part of an online gladitorial outfit led by Jackson. She leads guys into the games, where they're forced to fight to the death. But she falls for Lutz and you can probably guess the rest. [THR]
Jason Patric has signed on for HBO's movie blogger drama Tilda, which already stars Diane Keaton, Ellen Page, Wes Bentley, David Harbour and Leland Orser. Quite a strong cast now, especially with Patric on board. He's never done TV before and is typically quite choosy, so this could be a good thing. (Yeah, yeah, Speed 2 and The Losers, but hey, people make mistakes.)
Patric will be Tilda's nemesis, "Andrew Brown, the mastermind behind the media empire RMG." [Deadline]
Finally, STYD buried in a set of photos from the 'Fight Club versus werewolves' film Growl the news that Kiefer Sutherland is in talks to join the film once he has finished Lars Von Trier's new Melancholia.
Sxv'Leithan Essex (that's "skuh-lee-than") directs the film that already stars Katee Sackhoff, Josh Kelly, Paul Bean and Jennifer Lee Wiggins. The film follows "a traveling underground fight club called 'The Brawlers' arrive at a derelict ghost town tucked away in the Colorado Rockies. They meet the town's only residents, the Maxilla family, who want to buy on to the fight card. But the Maxilla family's true intentions for the Brawler crew is soon revealed in teeth and claws. Some will be hunted, some will be feed, and some will become part of the family whether they like it or not."