Platinum Dunes Takes Over New Teenage Mutant Ninja Turtles Film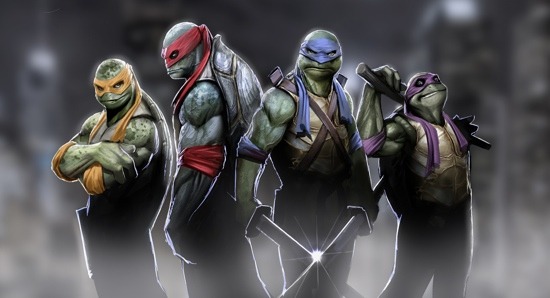 Do you like your Teenage Mutant Ninja Turtles ultra-gritty, 'realistic' and with a lot of violence, but without a lot of particularly interesting violence? Then you're in luck! Paramount became the new home for TMNT last year when Nickelodeon paid $60m for global rights to the characters, and the studio has now handed the development of a new feature film over to Michael Bay's Platinum Dunes.
Deadline says that Dunes producers Michael Bay, Brad Fuller and Andrew Form will meet with writers in the next few weeks. Guess that means the John Fusco script is out. This also probably means that we're not likely to see Megan Fox playing the intrepid April, friend and sidekick to the Turtles.
This is just the latest example of Platinum Dunes trying to diversify. The label has worked primarily in horror (primarily in horror remakes, really) but is moving into lighter remakes (The Monster Squad), adventure (the Ouija Board movie) and action (Heatseekers). If managed well, TMNT could easily become Dunes' biggest property yet. And all this after the fairly lackluster performance of A Nightmare on Elm Street. ($35m budget, almost $90m global gross — not yet doing so well when you factor in P&A and the cut taken out of global money.)
So, yeah, this is weird. Why did Paramount hand this to Platinum Dunes? More than likely because of what Bay has done with the Transformers movies, and probably because Dunes made a case for producing the film on a more modest budget than most potential franchise-starters. And what does this mean we can expect out of the movie? Prior to all the other recent Dunes deals this would seem to augur a particularly dark version (like 'what if Simon Bisley drew it?') but given recent developments, the company could be planning anything.
All I can say at this point is that I'm glad any real interest I had in these characters was done in the early '90s and I can now just look at the whole thing as a bizarre way to put money in the pockets of creators Kevin Eastman and Peter Laird.