2011 Release Dates Announced: Hanna, One Day, Jane Eyre, The Eagle Of The Ninth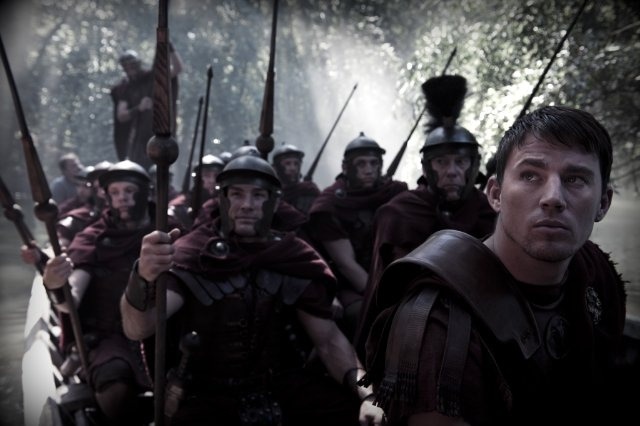 Focus Features has announced dates for their 2011 releases, which includes:
February 25th, 2011: Kevin Macdonald's Roman epic adventure The Eagle of the Ninth, starring Channing Tatum, Jamie Bell, Donald Sutherland, Mark Strong, and Tahar Rahim.
March 11th, 2011: Cary Fukunaga's big screen adaptation of Jane Eyre starring Mia Wasikowska, Michael Fassbender, Jamie Bell, Juid Dench, and Sally Hawkins
April 8th, 2011: Joe Wright's Hanna starring Saoirse Ronan, Cate Blanchett, and Eric Bana
Fall/Winter 2011: Lone Scherfig's big screen adaptation of One Day starring Anne Hathaway.
Read the full press release with more information on all of the films, after the jump.
FOCUS FEATURES CONFIRMS DATES FOR FOUR MOVIES FOR 2011 RELEASE
FOR IMMEDIATE RELEASE
NEW YORK, May 26th, 2010 – Focus Features today announced the first wave of its domestic theatrical release slate for calendar year 2011.
The Eagle of the Ninth will open nationwide on Friday, February 25th, 2011. The Roman epic adventure, currently in post-production, is directed by Academy Award winner Kevin Macdonald and produced by Academy Award and Golden Globe Award nominee Duncan Kenworthy. Jeremy Brock, BAFTA Award-winning screenwriter of Mr. Macdonald's 2006 film The Last King of Scotland, has adapted the screenplay from Rosemary Sutcliff's classic novel of the same name. The Eagle of the Ninth is set in the dangerous world of second-century Britain. In 140 AD, twenty years after the unexplained disappearance of the entire Ninth Legion in the mountains of Scotland, young centurion Marcus Aquila (played by Channing Tatum) arrives from Rome to solve the mystery and restore the reputation of his father, the commander of the Ninth. Accompanied only by his British slave Esca (Jamie Bell), Marcus sets out across Hadrian's Wall into the uncharted highlands of Caledonia – to confront its savage tribes, make peace with his father's memory, and retrieve the lost legion's golden emblem, the Eagle of the Ninth. The movie also stars Donald Sutherland, Mark Strong, and Tahar Rahim.Jane Eyre will begin its platform release in selected cities on Friday, March 11th, 2011. The film based on Charlotte Brontë's classic novel just wrapped principal photography and is directed by Cary Fukunaga, whose debut feature was Focus' award-winning Sin Nombre. Mia Wasikowska, Michael Fassbender, Jamie Bell, Juid Dench, Sally Hawkins, Tamzin Merchant, and Imogen Poots star in the romantic drama. In the story, Jane Eyre (Ms. Wasikowska) flees Thornfield House, where she works as a governess for wealthy Edward Rochester (Mr. Fassbender). The isolated and imposing residence – and Mr. Rochester's coldness – have sorely tested the young woman's resilience, forged years earlier when she was orphaned. As Jane reflects upon her past and recovers her natural curiosity, she will return to Mr. Rochester – and the terrible secret that he is hiding...The screenplay adaptation is by Moira Buffini; Ruby Films' Alison Owen, an Academy Award nominee for Elizabeth, and Paul Trijbits are producing Jane Eyre. Christine Langan, Creative Director of BBC Films, is executive-producing for the BBC.Hanna will open nationwide on Friday, April 8th, 2011, and wraps production next month on location in Europe. BAFTA Award winner Joe Wright, whose films include Focus'Atonement and Pride & Prejudice, is directing the movie. Hanna stars Academy Award nominee Saoirse Ronan, Academy Award winner Cate Blanchett, and Eric Bana. Hanna (Ms. Ronan) is a teenage girl. Uniquely, she has the strength, the stamina, and the smarts of a solider; these come from being raised by her father (Mr. Bana), an ex-CIA man, in the wilds of Finland. Living a life unlike any other teenager, her upbringing and training have been one and the same, all geared to making her the perfect assassin. The turning point in her adolescence is a sharp one; sent into the world by her father on a mission, Hanna journeys stealthily across Europe while eluding agents dispatched after her by a ruthless intelligence operative with secrets of her own (Ms. Blanchett). As she nears her ultimate target, Hanna faces startling revelations about her existence and unexpected questions about her humanity. Hanna also stars Jason Flemyng, Tom Hollander, Olivia Williams, and Martin Wuttke. Seth Lochhead wrote the initial screenplay and has written subsequent drafts, as have David Farr, Joe Penhall, and Mr. Wright. Academy Award nominee Leslie Holleran (Chocolat) is producing Hanna with the team of Marty Adelstein and Scott Nemes.One Day will open in the third quarter of 2011, and will star Academy Award nominee Anne Hathaway. Production on the movie will commence in July, under the direction of Lone Scherfig, who most recently helmed the Best Picture Academy Award nominee An Education. David Nicholls has completed adapting the screenplay, based on his acclaimed novel of the same name. Emma (Ms. Hathaway) and Dexter meet on the night of their graduation – July 15th, 1988. She is a working-class girl of principle and ambition who dreams of making the world a better place. He is a wealthy charmer who dreams that the world will be his playground. But where will they be on this day next year, and the year after that? Over 20 years, we check in on Emma and Dexter every July 15th, and watch as their friendship ebbs and flows with the passing of the years. Through love and loss, heartbreak and success, hopes fulfilled and dreams shattered, these two souls experience the sometimes wonderful, sometimes tragic, often hysterical but always moving, grandeur of life. Somewhere along their journey, they realize that sometimes what you are looking for has been right there in front of you all along.
Focus Features and Focus Features International (www.focusfeatures.com) comprise a singular global company. This worldwide studio makes original and daring films that challenge the mainstream to embrace and enjoy voices and visions from around the world that deliver global commercial success. The company operates as Focus Features in North America, and as Focus Features International (FFI) in the rest of the world.
Current and upcoming 2010 Focus Features releases include the unique nonfiction feature Babies, directed by Thomas Balmès; Anton Corbijn's suspense thriller The American, starring George Clooney; writer/directors Anna Boden and Ryan Fleck's It's Kind of a Funny Story; Academy Award-winning writer/director Sofia Coppola's Somewhere; and Lisa Cholodenko's The Kids Are All Right, starring Annette Bening, Julianne Moore, and Mark Ruffalo.
Focus Features and Focus Features International are part of NBC Universal, one of the world's leading media and entertainment companies in the development, production, and marketing of entertainment, news, and information to a global audience. Formed in May 2004 through the combining of NBC and Vivendi Universal Entertainment, NBC Universal owns and operates a valuable portfolio of news and entertainment networks, a premier motion picture company, significant television production operations, a leading television stations group, and world-renowned theme parks. NBC Universal is 80% owned by General Electric and 20% owned by Vivendi.