LOL: See How 'Airplane!' Liberally Borrowed From 1957 Thriller 'Zero Hour'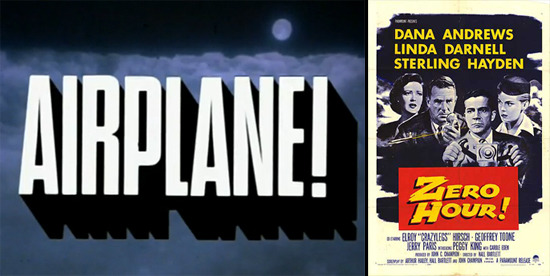 For serious devotees of the movie Airplane!, the fact that Jerry Zucker, Jim Abrahams, and David Zucker (aka ZAZ) were heavily inspired by the 1957 movie Zero Hour is no secret. They talk about the film on the DVD commentary and have mentioned in interviews that Airplane! is based to some extent on Zero Hour.
But it's one thing to know that the script for Airplane! was heavily based on this dead-serious air thriller, and quite another thing to watch all the related scenes back to back. And if you didn't know that the two films were related, then this will be even more of a treat. Check out a side-by-side collection of clips from both films, after the break.
Neatorama posted this clip, which has been on YouTube for a couple of months. Zero Hour is a thriller about a passenger flight that turns dangerous when the crew is felled by food poisoning, leaving traumatized war pilot Ted Stryker (Dana Andrews) as the only man on board able to land the plane. The film was written by Arthur Hailey, who was also behind the Airport movies that were also part of the inspiration for Airplane!. ZAZ actually bought the rights to Zero Hour, which allowed them to literally remake a great number of scenes — they didn't just use the script, but copied staging, camera angles and everything. And it's all used as the lead-in for a great many of the comedy's most well-loved jokes.
Here's info from the Airplane! DVD commentary (ZAZ are all talking here; I've just glommed their comments into one quote):
The first draft we probably wrote in 1974...the way we used to get material for [the Kentucky Fried Theater] was to leave a video recorder all night long, to get commercials to do spoofs...and so one morning we were looking at what we got the night before and there weren't very many good commercials to work with, but there was this airplane movie, a disaster film, which was Zero Hour, from 1957...we thought we could do a parody of this, see what happens.