Model Rosie Huntington-Whiteley Offered Female Lead In Transformers 3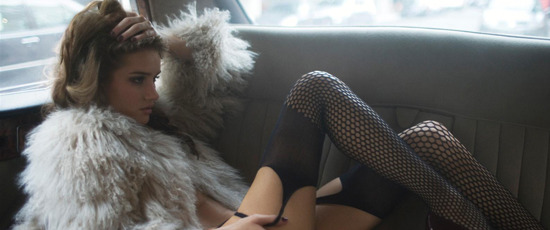 Last week Megan Fox left Transformers 3 (or was not asked back, depending upon which report you believe) and immediately rumors began to swirl about her replacement. Names of a few actual actresses were floated as vague rumors (like Gemma Arterton) but then speculation focused on models, with one Victoria's Secret model, Rosie Huntington-Whiteley, as the most possible successor. (Michael Bay, don't forget, has directed Victoria's Secret commercials, so he's had time to estimate various models', um, acting chops.) Now it seems like the job is hers.
Earlier today rumors that Victoria's Secret model Rosie Huntington-Whiteley was the frontrunner for the new female lead were advanced by Deadline after first being reported at the end of last week by GeekWeek. Deadline also said that Sarah Wright and Brooklyn Decker were on the shortlist. Bay supposedly wants a new face to be the film's new love interest, motorcycle decoration and running companion for Shia, hence the focus on models.
Now Deadline has updated, saying that the shortlist has essentially been dismissed and that an offer has gone out to Huntington-Whiteley.
The great thing about the story is that Huntington-Whiteley has no particular acting experience, and has two weeks until she begins shooting scenes with Shia LaBeouf. Working for Bay sounds like being thrown into the fire in the first place (that being one reason claimed for Fox's departure) and if you've got no prior acting skill to fall back on? Better hope the makeup, wardrobe, camera and lighting crews have your back so at least you look good.
It's easy to shrug and dismiss this as another oh-so-typical Michael Bay decision, but he's seen the girl test, and I haven't. Maybe there's something there beyond the ability to gaze seductively over an empty space where a complicated little robot will later be added to the scene.