This Week In DVD & Blu-Ray: The Road, True Blood (Season 2), Mystery Team, And More
We may receive a commission on purchases made from links.
This Week in DVD & Blu-ray is a column that compiles all the latest info regarding new DVD and Blu-ray releases, sales, and exclusive deals from stores including Target, Best Buy and Fry's.

THE ROAD
The apocalyptic/post-apocalyptic subgenre has been worn out. Between recent outings such as The Book of Eli, 2012, Daybreakers, Doomsday, and The Happening, it's becoming apparent that there's really not a whole lot else that can be done with it, and at this point they're just recycling clichés (e.g. villainous hillbillies, wandering through destroyed landscapes, people turning on each other). The Road though, while not at all exempt from these clichés, is different in one very significant way: It's not meant to be "fun". Most movies of this ilk are designed specifically to find the entertainment value in a world reduced to chaos, but very rarely do films ever attempt to find real meaning in that premise. And while The Road may not be as balls-out exciting as some were hoping (you can thank the deliberately deceptive trailer for that), it does put its desolate backdrop to good use, thoughtfully and believably exploring the ways in which our sense of humanity can become lost in times of fear. Those that have read the book will be sure to note how lacking the film is without the artistry and flow of Cormac McCarthy's prose, but given the limitations of the medium, this is a fine adaptation.
Available on Blu-ray? Yes.
Notable Extras: DVD & Blu-ray – Commentary by director John Hillcoat, deleted and extended scenes, and a Making of The Road featurette.
BEST DVD PRICE
Target
Best Buy
Fry's
$19.99
$19.99
$15.97
Amazon – $18.99
BEST BLU-RAY PRICE
Target
Best Buy
Fry's
$24.99
$22.99
$19.97
Amazon – $22.99
MYSTERY TEAM
If you've spent any time on the web outside of /Film, odds are that you've come across a DERRICK Comedy video at least one time or another. Over the past few years, the sketch comedy group has become something of an Internet sensation, receiving several million hits (each) on more than two dozen videos. (Here are a bunch of my favorites to help give a taste of their sense of humor:
,
,
, and
.) Now, after a year-long absence, DERRICK Comedy has returned with their low-budget attempt at a feature, and the results are surprisingly successful. The high-concept premise—following a trio of former child detectives as they try to solve a murder—doesn't seem like enough to sustain a movie initially, but the film gracefully avoids feeling like an extended sketch. It works because, once you get past the set-up, it moves beyond being a surface-level gag to become a legit adventure, with stakes that feel real and a cinematic approach that we don't often see with comedies. More importantly, it can be really, really funny. The way in which the naivety of the mystery team is played against the unpleasantries of real life is handled beautifully, and will hopefully go a long way in assuring this film's place as a cult favorite.
Available on Blu-ray? No.
Notable Extras: Commentary with DERRICK Comedy members, The Making of Mystery Team, deleted material, a preproduction test scene, and two featurettes ("Sword Club", "Who Is Wally Cummings?").
BEST DVD PRICE
Target
Best Buy
Fry's
$21.69
$19.99
N/A
Amazon – $19.49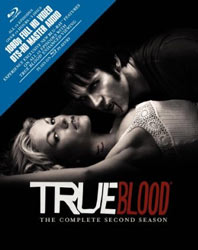 TRUE BLOOD (SEASON 2)
Season 2 of True Blood suffers from the opposite problem of the first. Whereas Season 1 struggled with the early episodes before hitting its stride in the second half, Season 2 starts strong and loses its way about halfway through. The show is great at spinning its wheels, continually introducing fascinating new elements into the storyline without actually doing anything worthwhile with them. It's all build up, and very little payoff. Take for example Jason's indoctrination into the church, or the kidnapping of Lafayette, or the search for the two thousand year old vampire Godric. All of these subplots take up several episodes, and despite being greatly entertaining while they last, nothing comes of them. Instead of using these opportunities to take the show in interesting new directions, the storylines simply fizzle out to make room for new fun storylines. And I suppose that's fine, as long as you don't mind a lack of narrative progression. The season as a whole may not cohere as well as the first, but the episode-to-episode entertainment value is definitely higher. Much of this is due to the more readily visible antagonist, who has a wonderful season-long presence that, like everything else on the show, eventually proves to be far more build-up than payoff. Still, it's doubtful the next season will be able to offer as compelling a villain.
Available on Blu-ray? Yes.
Notable Extras: DVD & Blu-ray – Seven audio commentaries, and two featurettes ("The Vampire Report", "Fellowship of the Sun: Reflections of Light").
BEST DVD PRICE
Target
Best Buy
Fry's
$34.99
$32.99
N/A
Amazon – $32.99
BEST BLU-RAY PRICE
Target
Best Buy
Fry's
$44.99
$39.99
N/A
Amazon – $39.99
EXCLUSIVE DEAL:
What? 45-min. cast Q&A, on Blu-ray or DVD.
Where? Target.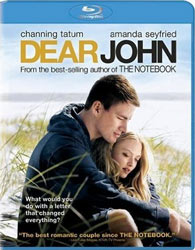 DEAR JOHN
Prior to this article, I did not realize that Dear John and Letters to Juliet were different movies. Imagine my surprise when I discovered that, in actuality, there have been two romances released this year that star Amanda Seyfried and are about mail. There are some significant differences though: Dear John is based on a novel by Nicholas Sparks, and co-stars Channing Tatum. And with that, I think it's safe to conclude that Letters to Juliet is the better movie.
Available on Blu-ray? Yes.
Notable Extras: DVD & Blu-ray – Deleted and alternate scenes, an alternate ending, a Conversation with Channing Tatum, Amanda Seyfried and Lasse Hallstrom, featurettes ("Transforming Charleston", "Military in Movies: Dear John's Military Advisors", "Mr. Tyree, The Mule, and Benny Dietz", "The Story of Braeden Reed"), and outtakes.
BEST DVD PRICE
Target
Best Buy
Fry's
$16.99
$17.99
$14.99
Amazon – $17.99
BEST BLU-RAY PRICE
Target
Best Buy
Fry's
$22.99
$22.99
$17.99
Amazon – $17.99
EXCLUSIVE DEAL:
What? Exclusive Blu-ray + DVD combo ($22.99).
Where? Target.
Other noteworthy DVD (and Blu-ray) releases this week...
Stagecoach (Criterion Collection) [
/
] –
–
Noteworthy Blu-ray-specific releases this week...
–
Dr. Horrible's Sing-Along Blog

NOTES: Some deals may be in-store only. All deals are for DVDs unless otherwise noted.

$12.99 – V (The Complete Series)
$19.99 – The Office (Season 2 – 5), How I Met Your Mother (Season 1 – 4)
$9.99DVD or $14.99 Blu-ray – Law Abiding Citizen, The Men Who Stare at Goats, Capitalism: A Love Story
$4.75 – Wedding Crashers, The Shawshank Redemption, Mr. Magorium's Wonder Emporium

$4.99 – Shoot 'Em Up, Troy, Independence Day, Godzilla, Van Helsing

$9.99 – Blu-ray sale: Fantastic Four, Fantastic Four: Rise of the Silver Surfer, Man on Fire, The Thomas Crown Affair, Vanishing Point, Say Anything, Gentlemen Broncos, MASH, My Cousin Vinny, High Crimes
$12.99 – Blu-ray sale: Bolt, Pirates of the Caribbean: The Curse of the Black Pearl, Pirates of the Caribbean: Dead Man's Chest, Pirates of the Caribbean: At World's End