Soundtracks: Trent Reznor's New Song For Tetsuo: The Bullet Man; Hear Inception Trailer Music In Full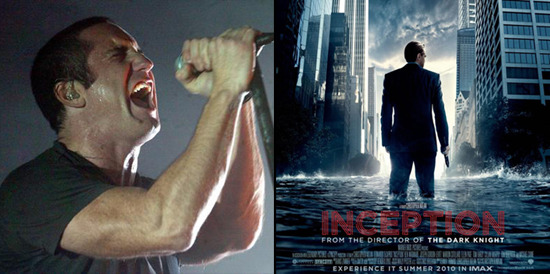 Trent Reznor may have disbanded the touring version of Nine Inch Nails, but he recently said the project is not dead. And now, just as his new band How to Destroy Angels prepares to release its first material, there is a new track that is being labeled as by Nine Inch Nails. Even better, it is the scratchy, unusual end credits music for Shinya Tsukamoto's film Tetsuo: The Bullet Man.
There's something all too appropriate about this, as early Nine Inch Nails videos owed a lot to Tsukamoto's film Tetsuo: The Iron Man. It always seemed as if he and Reznor should be collaborating all the time. Now they have, and you can hear Reznor's full track, the appropriately titled 'Theme for Tetsuo: The Bullet Man.' [Some Kind of Awesome, via Vulture]
The full track is after the break, along with the full version of the music from the Inception trailer.
This Inception trailer track hit sites a week or two but we neglected to post it. But the track is too good not to share. The Playlist dug up info on the music used in the trailer for Christopher Nolan's Inception. Turns out it isn't by Hans Zimmer; it is a track by Zack Hemsey.
The full track, 'Mind Heist,' is even better than what is heard in the trailer; there's such a fantastic and ominous buildup here. (Reminds me in some ways of a less beat-oriented version of Amon Tobin's music, especially his stuff from around the time of Supermodified.) Suffice to say, I'd love to hear a full score from Hemsey, and I'm curious to know how consciously he worked to emulate Hans Zimmer here. He does a great job, one way or the other, and now I'm driven to find more of his stuff.
Trent Reznor / Nine Inch Nails, 'Theme for Tetsuo: The Bullet Man'
Zack Hemsey, 'Mind Heist'