'Alpha And Omega' Movie Trailer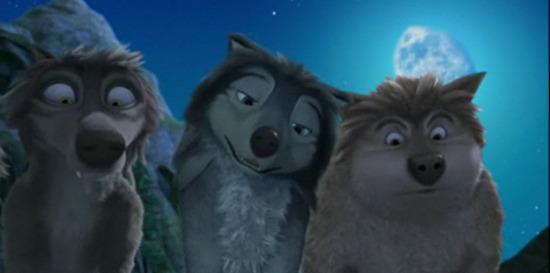 LionsGate isn't really the studio most people think of for cutting edge 3D CGI animation. In fact, despite having a film or two in release, I don't ever think of LionsGate with respect to animation, at all. But they're trying. The latest attempt to capture the hearts and minds of audiences is Alpha and Omega, a story of two wolves trying to rejoin their pack. Check out the trailer after the break.
The synopsis for this one is pretty thin: "two mismatched wolves are thrown together by circumstance," is basically the extent of it. The leads, voiced by Justin Long and Hayden Panettiere, are trapped and taken to Idaho, then have to try to find their way home. Along the way there's some class-based comedy and a little lupine romance.
Supporting cast includes Christina Ricci, Danny Glover, Dennis Hopper, and Larry Miller. The film is directed by Anthony Bell and Ben Gluck from a script by Chris Denk. Bell has experience directing
Duckman, Rugrats, and The Boondocks, while Gluck has Disney's Brother Bear 2 under his belt.
This movie is pretty plainly not for me, but it doesn't look as irritating as some of the more desperate DreamWorks films. Just looks a bit bland. But there's also a '70s Disney animation vibe (not always a good thing, but not so bad here) and it isn't hard to figure that kids and audiences who like this sort of thing might enjoy it.
LionsGate opens Alpha and Omega on September 17th.