Martin Scorsese Wants Al Pacino And Robert De Niro For Sinatra Biopic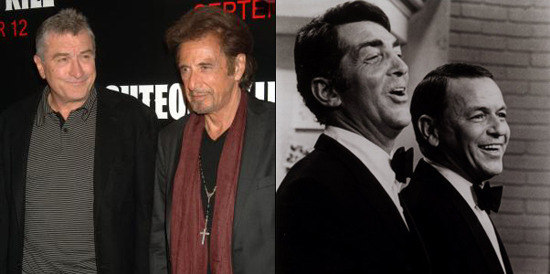 Martin Scorsese is still holding on to the idea of making a biopic about Frank Sinatra, and is talking more about his approach to the film. Quite a few names have been thrown out as possible Sinatras, but his dream team for at least one segment of the film would be to have Al Pacino playing Sinatra, with Robert De Niro as Dean Martin.
The Playlist found Scorsese talking about Pacino and De Niro in the national newspaper of India. (The director is there promoting Shutter Island right now.) The quote from Scorsese has it all: "[I've] yet to spot the actor who can bring back Frank Sinatra alive on screen. My choice is Al Pacino, and Robert De Niro as Dean Martin."
What are the chances of this actually happening? Well, if the Scorsese /De Niro collaboration really reignites some fire on the set of The Irishman, chances will probably go up dramatically. Granted, there may be some other films in the pipeline after that: Silence, for one, and maybe more. Sounds like this script is yet to be cracked, so if Pacino and De Niro really want to do it, hopefully they're willing to wait. Plus, the script will have to get past the Sinatra estate, so that's another hurdle.
To recap Scorsese's ideas for the film, let's go back to a quote from a couple months ago that makes this sound a bit like I'm Not There, the almost-biopic of Bob Dylan.
I was hoping it would be a combination of the two. Yeah, because in structure I'd like it to be more like GoodFellas. But like The Aviator, it only deals with certain times in his life. We can't go through the greatest hits of Sinatra's life. We tried this already. Just can't do it. So the other way to go is to have three or four different Sinatras. Younger. Older. Middle-aged. Very old. You cut back and forth in time – and you do it through the music. See what I'm saying? So that's what we're trying for. It's very tricky [laughs].