Cool Stuff: Pixar Artist Josh Cooley's Lil' Inappropriate Golden Book Movies R Fun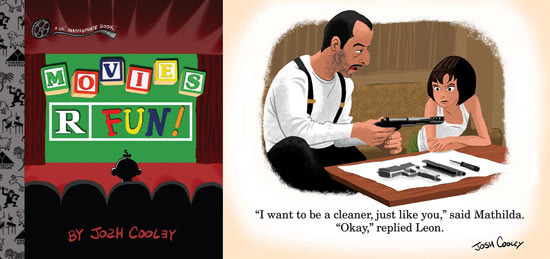 Do you remember those Little Golden Books? They were a staple from my childhood. Pixar Animation Story Artist Josh Cooley (Cars, Ratatouille, Up, George & AJ) is working on an awesome "Lil' Inappropriate Golden Book" titled Movies R Fun.
Cooley has been working on this compilation of movie art for two years and will be publishing the collection in a book which will be available at Comic-Con this year and APE Expo San Francisco in November. And don't worry, the books and prints will also be available on Cooley's Blog. High quality, "classy" prints will also be available as well.
Illustrations reference film classics such as The Professional, Terminator 2, Godfather, Goodfellas, Apocalypse Now, Se7en, 2001: A Space Odyssey, The Graduate, Terminator, Silence of the Lambs, and The Big Lebowski. Check out some of the art embedded after the jump.
Cool Stuff is a daily feature of slashfilm.com. Know of any geekarific creations or cool products which should be featured on Cool Stuff? E-Mail us at orfilms@gmail.com.

via: Forces of geek