Winnebago Man Trailer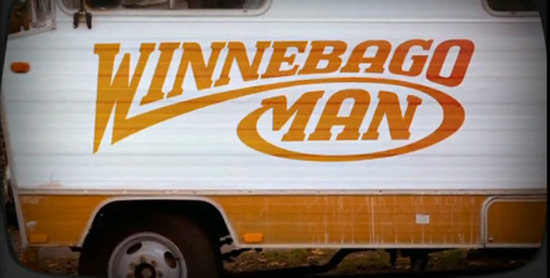 The film Winnebago Man traces a legacy of viral videos from the days of VHS tape trading to the early intersection of web videos and YouTube. Inspired by a montage of outtakes in which a motorhome pitchman curses wildly while making television commercials, documentarian Ben Steinbauer tracked down the man in the montage, Jack Rebney, and found a rather unique personality.
Winnebago Man has been making festival rounds for over a year, but is just now poised to open in theaters across the US this July. Now there is finally a trailer.
You could say there was always a trailer, in the form of the original montage of Rebney's expletive-laden outbursts. But that only gives you part of the story. What you'll see in the trailer is a hint of the man Steinbauer discovered when he went looking for Rebney: a reclusive 80-year old who lives alone in a remote location, totally unaware that he had become a minor and very accidental celebrity.
Delivering the trailer to BoingBoing this morning, Steinbauer said,
I first discovered the "Winnebago Man" clip in 2002, when a friend handed me a VHS tape with a bunch of underground videos. The blurry outtakes of a middle-aged RV salesman having a meltdown, was far and away my favorite. The hilarious barrage of profanity was so jaw-dropping that my roommate and I watched the clip every night for a year. I literally memorized it, and showed it to everyone I knew.
After the online video revolution took off and the "Winnebago Man" turned into one of the first Internet video sensations, I became fascinated that millions of people were watching this man, yet no one knew anything about him. I learned that his name was Jack Rebney, and I eventually hired a private investigator to find out if he was still alive. It turns out that Rebney had been living alone on top of a mountain for more than 15 years, and until recently he had no idea about his online fame or that the outtakes even existed. And that's when the real story began.
The trailer is fantastic, but beware: it is NSFW because of language.
Winnebago Man opens July 9.