Wayne McClammy To Direct Isla Fisher In Desperadoes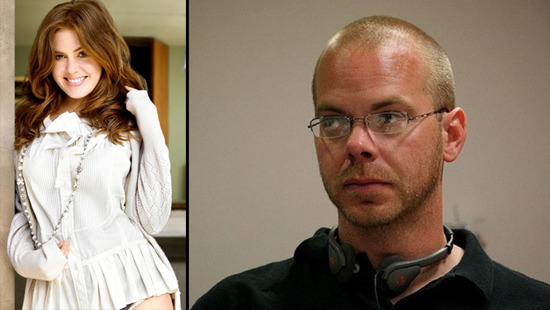 There's a chance you read that headline and said, "um, who?" Wayne McClammy is the director behind the videos 'I'm Fucking Matt Damon' and the star-studded rejoinder 'I'm Fucking Ben Affleck' that aired on Jimmy Kimmel Live! in 2008. (McClammy has also done directing chores on The Sarah Silverman Program and directed Silverman's The Great Schlep.)
Now he's working out a deal to direct the film Desperadoes, the Ellen Rapoport Black List script called "a female-oriented The Hangover."
THR says that the film is being developed around Isla Fisher, and that it is expected to start at the end of the year.
When we covered the script as part of the 2009 Black List, we said that Desperadoes follows:
Wesley Robbins, a 30-something single attorney with an unhealthy obsession with coupling up, thinks she's found the perfect man. But when he doesn't call for days after the first time they sleep together she freaks out and sends him a scathing email, only to learn he's been laid up in a Mexican hospital with some broken bones. On a whim, she and her girlfriends travel down south to erase the email before she ruins what she believes could be her one true love.
This isn't the first studio project that McClammy has been attached to in the wake of his Damon/Affleck comedy sketches blowing up online. In June of '08 he was attached to the rather terrible-sounding Fox project Cool School, about two 30-somethings who go back to high school to learn what's cool all over again.
That year he was also paired with a film called Beat Kip, "the story of three buddies who travel across the country to confront an Ivy League nemesis who stole one of the guys' girlfriends." But that was for Paramount Vantage, and at that point Vantage was already being folded into Paramount proper. Finally, he had a spec comedy called Le Car set up at MGM, so that's 1 for 3 in aligning with the proper studio.
Desperadoes is set up at Universal, so it could actually move forward. (And is it McClammy's agent and manager who have helped set him up with a string of journey/road trip buddy movies, is that what he's really drawn to, or is that one of the few comedy options for an unproven feature director to tackle at studios?)