Ewan McGregor Is The Star Of Terry Gilliam's 'The Man Who Killed Don Quixote'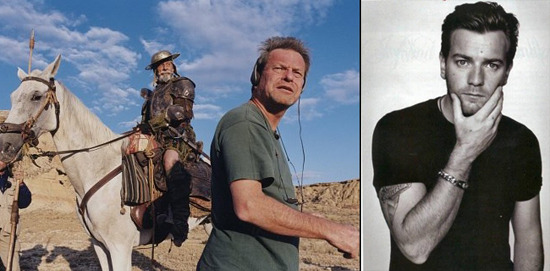 The first time Terry Gilliam tried to shoot The Man Who Killed Don Quixote, he had stars Johnny Depp and Jean Rochefort. That production ran into myriad difficulties and was shut down (as chronicled by us in other articles and in the doc Lost in La Mancha) but Gilliam is about to try again. Last year he revealed that Rochefort's role would be played by Robert Duvall. And now we know that Depp's role will be taken by Ewan McGregor.
Empire has the news, which the site got from Gilliam at a party last night in Cannes. Of his two leads, Gilliam said,
Robert Duvall is one of the greats, no question – and he can ride a horse! ...And Ewan has gotten better over the years. He was wonderful in The Ghost. There's a lot of colours to Ewan that he's not been showing recently and it's time for him to show them again. He's got a great sense of humour and he's a wonderful actor. He's wonderfully boyish and can be charming – when he flashes a smile, everybody melts. He wields it like a nuclear bomb!
Depp had remained attached to the film for quite a while, but scheduling issues prevented him from signing on. Not long ago Gilliam offered the role to Colin Farrell, who turned it down. I like both actors for the role, but can see McGregor working quite well with Duvall. McGregor seems to be on the climb back up to being a powerful actor, and I hope the energy Gilliam evidently has for this project can push him to a great turn.
We know that a good deal of work has been done to the script draft the 2000 attempt was based on. We don't know to what degree the characters have changed, but McGregor's character was originally described as an ad exec named Tony Grisoni (yes, after Gilliam's co-writer on the film) who becomes unstuck in time and encounters Don Quixote (Duvall), who mistakes the exec for Sancho Panza. At one point last year the rewrite was said to recast Grisoni as a screenwriter.
Empire does report that this will be a slightly smaller scale version, as the budget is around $20m, versus the $35m Gilliam had the first time around.