Moneyball Looking To Bring Philip Seymour Hoffman And Robin Wright To The Plate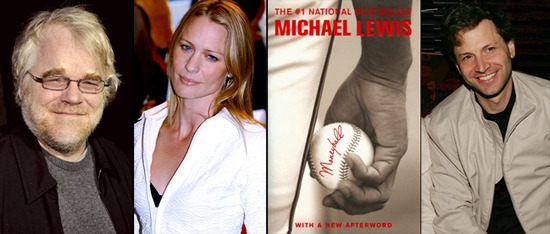 After a year of wrangling and new talent, I'm still going to be surprised when the cameras start to roll on Moneyball. Director Bennett Miller and Sony seem determined to give me that surprise, however. They're in talks now with Philip Seymour Hoffman and Robin Wright to bolster the cast, which still includes Brad Pitt and Jonah Hill.
Variety says that Hoffman would play Art Howe, the field manager of Billy Beane's Oakland A's. Howe, who started playing in the majors in '71, had been managing for two years when Beane took over as General Manager. Though the two shepherded the A's to become a winning team, the A's still failed to win a playoff series. The two clashed, and four years later Beane fired Howe.
Wright would play Beane's ex-wife. Pitt, remember, is playing Beane, who implemented a new stats-based system of hiring affordable talent to build a winning team. Hill will play Paul DePodesta, a Harvard grad statistician who skipped over Wall St. jobs and instead went to work for Beane.
The idea that Bennett Miller would go after Hoffman is no surprise; the two worked together on Capote, where Hoffman turned in an Oscar-winning performance as Truman Capote. And Wright is always reliable. Great lineup so far, and word on the latest draft of Aaron Sorkin's screenplay has been good as well.
The film is scheduled to shoot in July. And, OK, I can come to grips with the fact that the film is actually happening, but that Brad Pitt remains attached? Kind of amazing, given his propensity to bail from films. So I'll revise my opening statement — if this thing goes before cameras with Pitt still on board, I'll probably have to pass out for a minute. But it'll be a happy fainting.