Nicolas Winding Refn Would Love To Direct Wonder Woman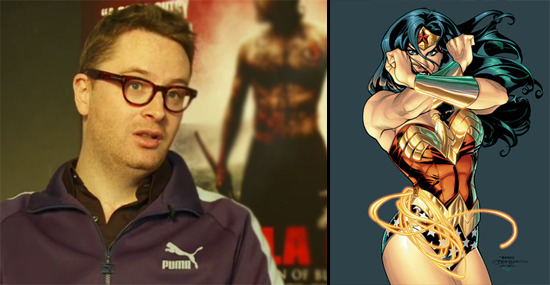 Whoa. Color me psyched. Regular readers know that a few of us here at /Film are big fans of Danish director Nicolas Winding Refn, thanks to films like the Pusher series and Bronson.
Refn has made small, non-studio pictures so far, though the upcoming Drive, with Ryan Gosling, brings him closer to the studio fold. But if Refn does do a big studio movie, which is something he's not actively avoiding, he's got one in mind: Wonder Woman. Does that seem crazy? Frankly, yes, but there's video of Refn talking about it.
A BBC video interview from a couple weeks back ends with Refn talking about how his stock changed in Hollywood after Bronson, and what he'd like to do, should he make a studio picture.
After Valhalla Rising I thought the most surprising thing for me would be to go to Los Angeles and do a studio movie. Coming from a movie where I had complete control — I also own the movie — and had complete, kind of like, accessibility around me, and then going to Hollywood and doing a film within the studio, which is very much the opposite, I thought could be a very interesting experience for me.
I guess one of the aims I am having, but at the very early stage, I always wanted to do Wonder Woman as a feature film...Well, I would say that Wonder Woman is probably something that, to me, would be not just a satisfaction, but almost a [catharsis], and I was born to make it.
So...is he joking? Doesn't seem like it, though the interview is cut up enough that it is possible. The smile on Refn's face when he mentions the title seems to be more "yeah, I know it's a weird choice" than "I'm messing with you." But it could be him having a laugh.
And note that this is not a 'Warner Bros. has attached/hired Refn' article, as much as I'd like that to be the case. It is just him saying he'd like to do the movie, but with some language in there ('at the very early stage') that suggests he has had conversations with the studio about it.
Why do I love this idea so much? In part because Wonder Woman has long been in development under the eye of Joel Silver, who has never seemed like the ideal guy for the job. OK, he helped shepherd at least one significant female character to the screen in the form of Trinity in The Matrix. But in general, the Silver sense of bombast doesn't seem like the right fit for Wonder Woman. But with a director like Refn, things might really cook. Refn has his intuitive and empathetic faculties in full working order, but can also deliver very effective action.
The Wonder Woman comments come just after this statement about his standing after Bronson:
I wouldn't say that I got mainstream offers, but I think that lot of young actors, especially in Hollywood, wanted to do their Bronson, so I got flooded with talent from over there, which was a great opportunity.
That would seem to link to the Ryan Gosling-starring Drive, which could be one of Refn's next couple films. And, given what he's done Tom Hardy in  Bronson, I can also see many actresses thinking that they'd be in good hands playing Wonder Woman for Refn.
Here's the interview. The relevant comments start at about 6:57. And please note that the volume slider on the BBC player goes to 11. That's cute.