Now Marilyn Monroe Has Dueling Biopics; One With Naomi Watts, One With Michelle Williams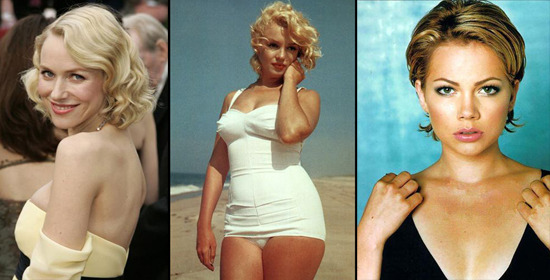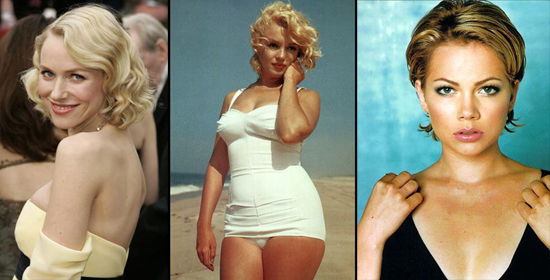 I know that Marilyn Monroe is an American icon, but do we really need two biopics of the actress in the works? On one hand, there's My Week With Marilyn, which started development last year. Scarlett Johansson was originally slated to star, then Michelle Williams stepped in.
And now there is Blonde, which adapts the fake memoir by Joyce Carol Oates. Playing Monroe in this one will be Naomi Watts — not exactly who comes to mind when thinking of the curvy Monroe — under the direction of Andrew Dominik. He might be the key ingredient here, because if you're going to make a movie about an American legend, why not hand it to the guy who last made The Assassination of Jesse James by the Coward Robert Ford?
Screen Daily talks about Blonde, which is budgeted at $20m and plans to shoot in January 2011. Of the film, Dominik says
Why is Marilyn Monroe the great female icon of the 20th Century? For men she is an object of sexual desire that is desperately in need of rescue. For women, she embodies all the injustices visited upon the feminine, a sister, a Cinderella, consigned to live among the ashes...I want to tell the story of Norma Jean as a central figure in a fairytale; an orphan child lost in the woods of Hollywood, being consumed by that great icon of the twentieth century.
The idea of icons, and the difference between the reality of an icon and their actual life were ideas that had great weight in Jesse James, and even Dominik's previous film, Chopper. So while I'm not really champing at the bit for a new film about Monroe, I think Dominik has the right mindset.
The Joyce Carol Oates book being used as source material tells Monroe's story from her own point of view (hence 'fake memoir') but despite the necessarily dramatized perspective, seeks to be an authentic take on the actress.
Meanwhile, there is still the Weinstein Company film My Week With Marilyn, which is based on a diary by Colin Clark, who worked for Laurence Olivier when the actor sheperded Monroe around London while she shot The Prince and the Showgirl. This one will ideally shoot this fall under the direction of Simon Curtis. Williams is great, and I think she's better for the part than Watts, but the sensibility of Andrew Dominik seems to give Blonde an advantage.