Sony Readies A Rollercoaster Tycoon Adaptation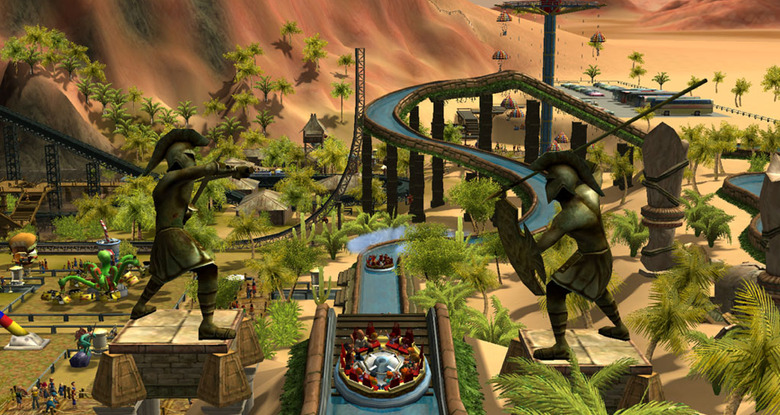 Ever played the "Tycoon" series of video games? Games such as "Railroad Tycoon," "Transport Tycoon," and "Rollercoaster Tycoon" were like "SimCity" on a smaller level, allowing you to manage one company and compete for world domination in its business. The "Rollercoaster Tycoon" series was particularly popular, spawning two sequels, several expansion packs, a board game, and a book series.
Now aspiring Rollercoaster creators can look forward to one more spin-off: Sony Pictures Animation has picked up the rights for a film adaptation of "Rollercoaster Tycoon" with director Harald Zwart (director of Sony's upcoming Karate Kid) executive producing and possibly directing.
According to Heat Vision, Zwart will be joined by screenwriters David Ronn and Jay Scherick, who recently worked on The Smurfs and The Zookeeper starring Kevin James. The film will apparently be a "live-action/CGI hybrid."
The "Tycoon" games have generated more than $300 million for Atari and I'm guessing that Sony thinks they will have some sort of built-in audience for the upcoming movie. But as with Peter Berg's upcoming Battleship adaptation, I'm pretty baffled by this acquisition. Have you ever watched someone play a resource management game before? It's not riveting, and doesn't particularly lend itself to film adaptation. In fact, one of the most enjoyable parts of the "Railroad Tycoon" games was the fact that you could design and build your own rollercoasters (again, another facet that is impossible for filmgoers to experience).
What genre movie could it possibly be? I can see it maybe being a rags-to-riches story about a guy who built a theme park empire from nothing. But in that case, is the "Tycoon" branding really necessary or useful?
Then again, maybe I'm wrong on all counts. Maybe it has the potential to be an amazing horror film, as this actual gameplay footage demonstrates: