Movie Trailer: Joan Rivers: A Piece Of Work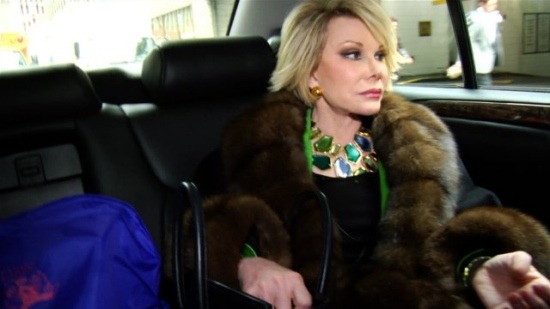 The documentary Joan Rivers: A Piece of Work premiered at the 2010 Sundance Film Festival to acclaim.
JOAN RIVERS – A PIECE OF WORK takes the audience on a year long ride with Joan Rivers in her 76th year of life; it peels away the mask of an iconic comedian, laying bare both the struggle and thrill of living life as a groundbreaking female performer. Filmmakers Ricki Stern and Annie Sundberg (THE DEVIL CAME ON HORSEBACK, THE TRIALS OF DARRYL HUNT) expose the private dramas of this irreverent, legendary comedian as she fights to keep her career thriving in a business driven by youth and beauty.
IFC Films picked up the doc at the festival following the buzz from early screenings. A trailer is now online, and embedded after the jump. Please leave your thoughts in the comments below.
JOAN RIVERS: A PIECE OF WORK opens in select theaters on June 11th, 2010.