Must Watch: Trailer For Tsui Hark's Detective Dee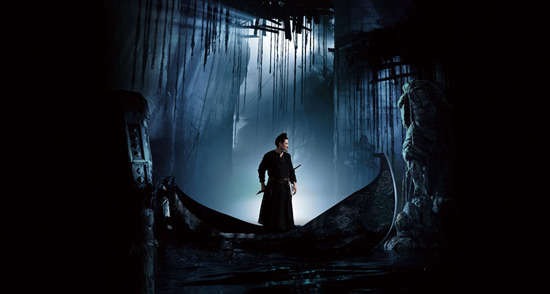 It has been a while since Tsui Hark was on top of the Hong Kong film scene. But for anyone who was knee deep in HK flicks through the '80s and '90s, the name should still be enough to pique some interest.
If you didn't have the good fortune to live through that fantastic movie boom, or if the name isn't enough, just check out the trailer for his latest film, Detective Dee. This is a mad collection of great images, and if the film is even half as visually exciting, it could be a real return to form for Hark.
Twitch has the trailer, and does correctly note that Hark's 2005 film Seven Swords also had a great trailer and was less than a masterpiece. But I'll choose optimism here – how could I not, given how fantastic it looks? Granted, it is so extravagant in some ways that I could see the story getting lost in the visuals. But again: optimism! I've watched this a couple times today, and am completely taken with the way it seems to combine modern CGI with the ambitions of some early '90s Hong Kong films.Andy Lau has the lead role, as Detective Dee, and Tony Leung Ka Fai is on hand as well. Better yet, the legendary Sammo Hung is responsible for the fight scenes. The film hits in September, so look for it to appear at Fantastic Fest or TIFF's Midnight Madness program, which will hopefully lead to some domestic distribution.
Here's a brief synopsis:
When the mysterious deaths of a series of loyal subjects threaten to delay the 690 A.D. inauguration of Empress Wu Zetian, China's only female leader, she summons the infamous Detective Dee back from an exile into which she cast him eight years earlier.