Darren Aronofsky And Brad Pitt Team Up To Hunt A Tiger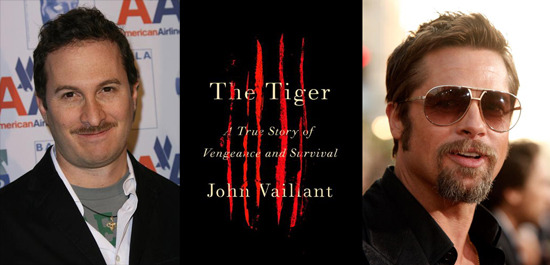 We may receive a commission on purchases made from links.
Darren Aronofsky is still willing to work with Brad Pitt. Despite the fact that their collaboration on The Fountain went south, with Pitt departing before production began and Aronofsky eventually downscaling and recasting the movie. And despite the fact that Pitt also bailed on The Fighter, before Aronofsky left that movie and David O. Russell took over.
Now the pair are both attached to a Focus Features film called The Tiger, which is based on a forthcoming book called The Tiger: A True Story of Vengeance and Survival. The film is being groomed as a starring project for Pitt, and Aronofsky is attached to direct.
Variety and Deadline both have details, the most significant of which is that Guillermo Arriaga will write the script. He wrote Babel, which was a Pitt project in 2006.
John Valiant's book is nonfiction, and Variety describes the feature pitch like so:
[The Tiger] takes place on the Siberian plain, where human development is encroaching on the tigers' habitat — and one tiger turns on the intruders. With townspeople being tracked and hunted with an almost supernatural power, a conservationist game warden must face down the tiger. It is a fight that only one of them can win.
You might be waiting for comparisons to The Ghost and the Darkness to crop up, and yeah, there certainly seems to be a parallel. But the timeline of The Tiger is modern — the meat of the tale takes place in the late '90s — and the setting is the Siberian frontier. More info from Amazon:
When Yuri Trush was called in to investigate an attack by a Siberian tiger, what he found was unlike anything he'd ever encountered. Nothing remained of the victim but stumps of bone protruding from his boots. Even more chilling was the evidence that this attack had been carefully orchestrated, as if the tiger was seeking revenge. Before long, the beast struck again, and Trush, leader of a tiger conservation unit, found himself forced to hunt this animal through the brutal cold of a Siberian winter, becoming intimately acquainted with the tiger's history, motives, and unique method of attack—until their harrowing final encounter.
Given the history of past Aronofsky/Pitt collaborations I don't have the greatest faith that we'll ever see this movie from those two men. But I'd love to; particularly I'd love to see Aronofsky go to the lengths necessary to make the film work. I can imagine him turning in quite a deep, effective tale of man against nature.