The Slashfilm/Totally Rad Show Summer Movie Game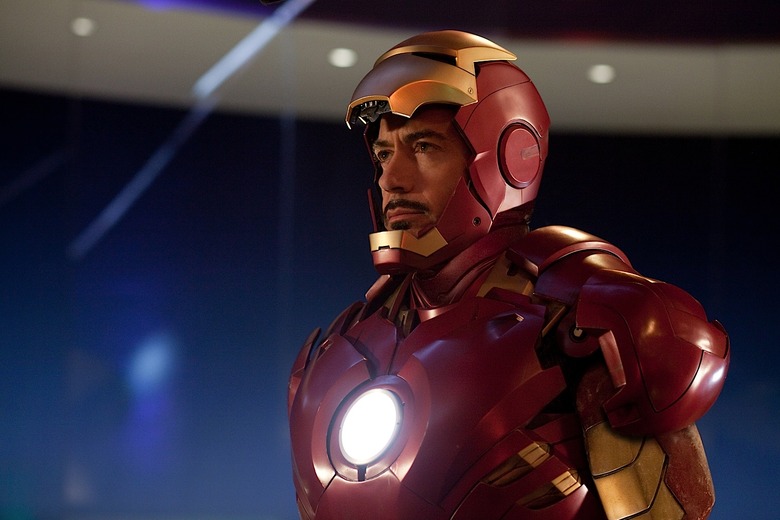 Our friends at the Totally Rad Show have thrown down the gauntlet, and challenged /Film to compete against them in their annual Summer Movie Game. David Chen, Russ Fischer and I (Peter Sciretta) will compete against TRS's Dan Trachtenberg, Alex Albrecht, and Jeff Cannata.
The game is to decide what will be the highest grossing films of the Summer. But it isn't just that easy — not only do the participants need to predict what 10 films will be the highest grossing films domestically, but we need to place them in order. I actually appeared on this week's TRS to announce my choices along with the TRS gang (embedded after the jump).
You can WIN too! We thought it would be a fun idea to invite you guys to play along with us. After the jump you can find a full listing of the Summer movies, a complete set of rules, and all of the predictions made my TRS and /Film. Leave your top ten list and three dark horses with your explanations of why and how in the comments below, and I will send the U.S.-based /Film reader with the highest score a $100 Amazon Gift Card.
If there is a tie, we will choose one of winning entries based on their reasonings for the film placings and award that person with the prize. Each person is allowed one (and only one entry). You can enter by leaving your entry in the comments below along with your full name and city/town, state of residence. Entries will only be accepted until Friday, May 14th 2010 at midnight. The full rules must be followed in order to win.
The Rules
The rules for the game come from TimeTravelReview's Summer Movie Pool:
The object is to pick the films that you think will be the top-ten grossing films of the summer, in order of box-office performance. As I've said, that means only films released from May 7th 2010 to the Labor Day weekend, counting only the money those films make domestically (US and Canada) in that period. In other words films from March or April might still be making money after May 1st, but they don't count; films released from May on could start racking up foreign B.O., but that doesn't count; films released from May on could still be making money into September, but that doesn't count either. Box Office numbers are generally available late Monday or Tuesday after the weekend closes. For the last seven or so years, I have been using box office numbers from Yahoo Box Office which gets their numbers in turn from Box Office Mojo. So what you will be doing is figuring out what 10 films will make the most money, and putting them in order of what you think they will gross at the box office. BUT, in addition to your top 10, you get to pick 3 "Dark Horses"- films you think *might* make it, but that you are not confident enough about to put into the top 10 proper.
The Scoring:
Getting number 1 or number 10 dead-on gets you 13 points (each).
The rest of the scoring goes like this:
10 points for numbers 2-9 dead-on
7 points if your pick was only one spot away from where it ended up
5 points if it was two spots away
3 points if your pick is anywhere in the Top 10
1 point for each dark horse that makes it into the Top 10
The scoring is tabulated so that you get the SINGLE HIGHEST point value for each pick- that is, if you get number ten right, you don't get 13+3, you only get 13.
/Film:Peter Sciretta's List:
1. Iron Man 2
2. Toy Story 3
3. The Twilight Saga: Eclipse
4. Sex and the City 2
5. Shrek Forever After
6. Inception
7. Prince of Persia – The Sands of Time
8. The Last Airbender
9. The Karate Kid
10. Despicable Me
Dark Horses
The A-Team
The Sorcerer's Apprentice
Knight & Day
David Chen's List:
1. Iron Man 2
2. Shrek Forever After
3. The Last Airbender
4. The Twilight Saga: Eclipse
5. Toy Story 3
6. Inception
7. Sex and the City 2
8. Knight and Day
9. The Karate Kid
10. The A-Team
Dark Horses:
The Sorcerer's Apprentice
Robin Hood
Predators
Russ Fischer's List:
1. Iron Man 2
2. The Twilight Saga: Eclipse
3. The Last Airbender
4. Toy Story 3
5. Sex and the City 2
6. The Sorcerer's Apprentice
7. Knight and Day
8. Inception
9. The Karate Kid
10. The A-Team
Dark Horses:
Scott Pilgrim
The Other Guys
Eat Pray Love
Totally Rad Show:Alex Albrecht's List
1. Shrek Forever After
2. Prince of Persia
3. MacGruber
4. Iron Man 2
5. Twilight: Eclipse
6. Toy Story 3
7. Robin Hood
8. The Last Airbender
9. Inception
10. The A-Team
Dark Horses
Knight & Day
Get Him to the Greek
The Sorcerer's Apprentice
Jeff Cannata's List
1. Toy Story 3
2. Twilight: Eclipse
3. Shrek Forever After
4. Iron Man 2
5. The Last Airbender
6. Knight & Day
7. Prince of Persia
8. Sex and the City 2
9. Robin Hood
10 Despicable Me
Dark Horses
Karate Kid
Predators
Inception
Dan Trachtenberg's List
1. Iron Man 2
2. Shrek Forever After
3. Toy Story 3
4. Prince of Persia
5. Sex and the City 2
6. Twilight: Eclipse
7. The Last Airbender
8. The A-Team
9. Knight & Day
10. Letters to Julia
Dark Horses
Inception
The Sorcerer's Apprentice
The Other Guys
List of Summer Movies:May 7
Iron Man 2
May 14
Just Wright
Letters to Juliet
Robin Hood
May 21
MacGruber
Shrek Forever After
May 27
Sex and the City 2
May 28
Prince of Persia: The Sands of Time
Micmacs (Limited)
Survival of the Dead (Limited)
June 4
Get Him to the Greek
Killers
Marmaduke
Splice
June 11
The A-Team
The Karate Kid
June 18
Jonah Hex
Toy Story 3
June 25
Grown Ups
Knight & Day
June 30
The Twilight Saga: Eclipse
July 2
The Last Airbender
July 7
The Kids Are All Right (Limited)
July 9
Despicable Me
Predators
Cyrus (Limited)
[Rec] 2 (Limited)
July 16
Inception
The Sorcerer's Apprentice
July 23
Dinner for Schmucks
Ramona and Beezus
Salt
July 30
Beastly
Cats & Dogs: The Revenge of Kitty Galore
Charlie St. Cloud
August 6
Middle Men
The Other Guys
Step Up 3D
August 13
Eat, Pray, Love
The Expendables
Scott Pilgrim vs. the World
August 20
The Switch
Lottery Ticket
Nanny McPhee and the Big Bang
Takers
August 27
Going the Distance
The Last Exorcism
Piranha 3-D
Centurion (Limited)
Totally Rad Show Segment: