LOL: Quentin Tarantino's Trunk Shot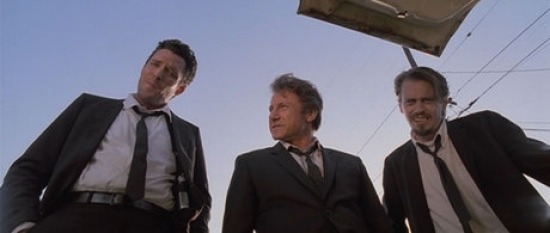 If you've seen more than one movie by Quentin Tarantino, then you've surely noticed his signature POV trunk shot. The shot even has its own wikipedia page (take that Scorsese Squeeze!). Here is the background from wiki:
The Trunk shot is a camera angle used in cinema when one or more characters need to retrieve something or someone from the trunk of a car. ...  This camera angle is often noted to be the trademark of film maker Quentin Tarantino who disputes that he puts the shot in his films as a trademark and simply asks "Where would you put the camera?" Although he did not invent it, Tarantino popularized the trunk shot, which is featured in Reservoir Dogs, Pulp Fiction, Jackie Brown, and Kill Bill. In Death Proof, Tarantino's traditional shot looking up at the actors from the trunk of a car is replaced by one looking up from under the hood. In Inglourious Basterds a "trunk shot" is used two times when Aldo Raine (Brad Pitt) crouches over a captured Nazi with one of his soldiers, cutting a swastika into their victim's forehead (the shot is supposed to be the victim's point of view).
After the jump you can see an image that collects all of Tarantino's Trunk Shots. It first appeared on Reddit but has been making its way around the interwebs yesterday.