Early Buzz: Robin Hood Reviews Break Before Cannes Premiere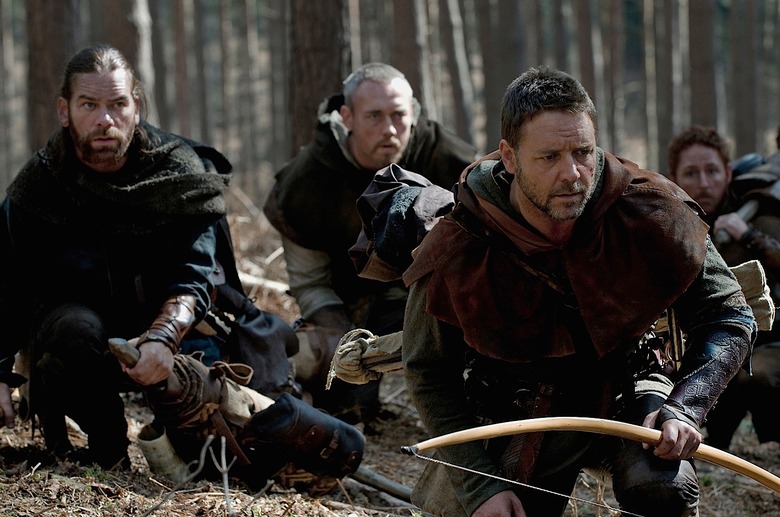 Ridley Scott's Robin Hood is set to open up this year's Cannes Film Festival on Wednesday night, but early reviews have begun to leak out over the weekend. The reviews range from mixed to not-so-positive. Check a sample of excerpts after the jump:
Variety: ""Can you not sing a happy tune?" growls a not-so-merry man in "Robin Hood," and one might direct the same question at Ridley Scott's grimly revisionist take on England's most famous outlaw. Impressively made and serious-minded to a fault, this physically imposing picture brings abundant political-historical dimensions to its epic canvas, yet often seems devoted to stifling whatever pleasure audiences may have derived from the popular legend."
The Hollywood Reporter: "This rousing "prequel" to the familiar Robin Hood tale strains to appeal to too many demographics." ... "Scott supplies a supple visual design and terrific action choreography while Helgeland's screenplay conjures up robust characters that often lack dimension but make up for this with vigor." ... "The film's hodgepodge approach suggests many rewrites to forge a new angle on Robin Hood plus a desire for the movie to play to many constituencies. So, understandably some things work better than others."
Jeff Wells: "I for one am somewhere between fairly and moderately pleased that Ridley Scott's version doesn't do the usual usual. It's an origin story than ends when the other Robin Hood films have begun, and for my meager money it moves along well enough on this particular course." ... "The script is intelligible and intelligent, every frame has been handsomely shot, the production design is first-rate and the cast does its job like the somewhat older pros that most of them are. "
Empire: "Grown-up but not too serious; action-packed but not juvenile... Not only is this the mullet-free Robin Hood movie we've been waiting decades for, it's also Ridley Scott and Russell Crowe at their most entertaining since Gladiator."
IndieWire:  "Ridley Scott's "Robin Hood" is neither as good as the director's personal best period epic, "Gladiator," nor a match for Hollywood's most memorable previous accounts of the beneficent bandit of Sherwood Forest (it is, however, superior to the Kevin Costner entry two decades back, which I at the time dubbed "Robin of Wood")." ... "what we're left with is a fashionably gritty period drama, conceived by intelligent minds and handsomely decked out, but featuring no beating heart or compelling raison d'etre. The very ending, a sort of cliffhanger followed by the title, "And so the legend begins," makes you want to see something other than the movie you've just seen. "