Cool Stuff: Star Wars: Visions Art Book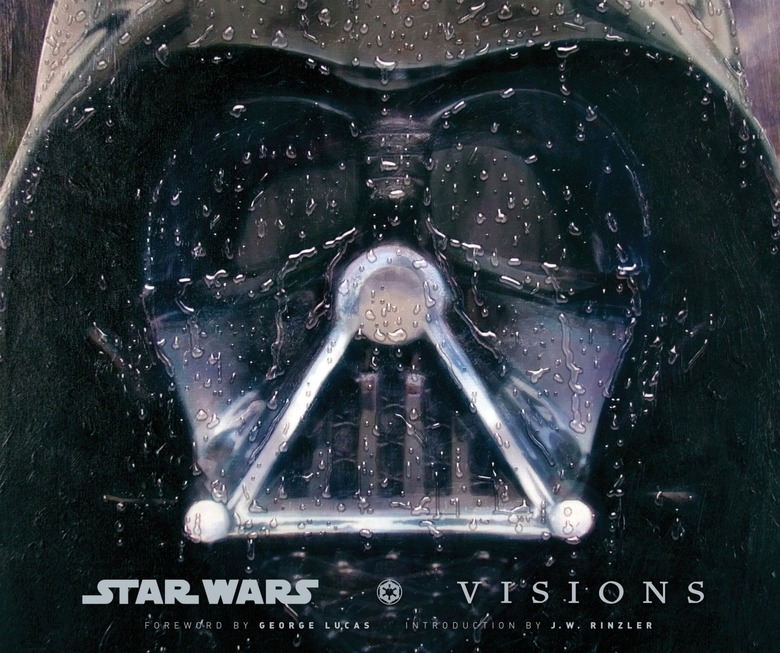 We may receive a commission on purchases made from links.
One thing is for sure, LucasFilm knows how to produce some awesome books. Their latest is a collection of Star Wars-inspired art called "Star Wars: Visions".
Just as George Lucas drew upon the work of N. C. Wyeth and Norman Rockwell for his own visual inspiration, he has now invited more than 100 well-known and promising artists to draw upon the entire Star Wars galaxy for inspiration. Star Wars: Visions collects these magnificent artworks for the first time. Featuring pieces by renowned artists such as Amano, Allan R. Banks, Harley Brown, Gary Carter, James Christensen, Michael Coleman, Kinuko Craft, Jim Dietz, Phillipe Druillet, Donato Giancola, Ann Hanson, H. R. Giger, Daniel Greene, Ron Kleeman, Arantzazu Martinez, Syd Mead, Moebius, Paul Oxborough, Alex Ross, Anthony J. Ryder, Dolfi Stoki, William Stout, Dan Thompson, Julie Bell and Boris Vallejo, Scott Waddell, and Jamie Wyeth, Star Wars: Visions is a breakthrough tribute to the worldwide inspiration that is Star Wars.
Check out a sample of the art to be included in the book after the jump. The 176-page book hit stores on November 1st 2010, and is available for preorder on Amazon now for only $26.40 (34% off the $40 msrp).
Here is a video about the art in the book:
View some of the art:
All images courtesy of Abrams/Lucasfilm
LucasFilm will also be releasing a super expensive Star Wars Visions: Limited Edition, featuring:
...more than fifty paintings and illustrations not seen in the trade edition, as well as "behind-the-scenes" shots of artists' working processes, preporatory sketches, and more. Presented in a delux format, with a real-cloth cover and clamshell case, the Limited Edition also comes with five 10 x 12" high-quality archival giclee prints, signed by artists Jamie Wyeth, Alex Ross, Moebius, Donato Giancola, and Daniel Greene.
The $400 cover price, even after Amazon's 37% discount is still too expensive ($252)  to consider on my end.
Cool Stuff is a daily feature of slashfilm.com. Know of any geekarific creations or cool products which should be featured on Cool Stuff? E-Mail us at orfilms@gmail.com.

via: StarWars.com / Asylum