Hitman/A-Team Screenwriter To Write Die Hard 5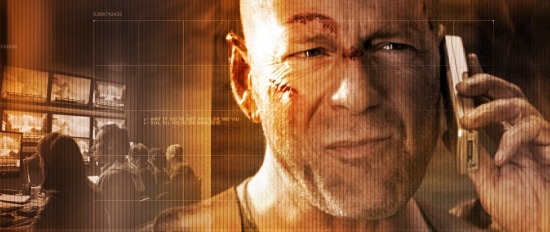 Skip Woods is in talks with 20th Century Fox to write Die Hard 5. Woods is the screenwriter behind Swordfish and Hitman, and one of the writers on X-Men Origins: Wolverine and the upcoming A-Team movie. No information has been released on a possible storyline for the fifth installment, but Bruce Willis has said that it would have to expand in scope and go "worldwide".
This comes after Bruce Willis made claims at the Cop Out junket in New York City that not only would he like to do another Die Hard film, but "I think we're going to do a 'Die Hard 5' next year." It is now one step closer to being possible.
Willis has also said that the series needs to expand in scope. The original film had John McClane "trapped in a building", in Die Harder he was "trapped in an airport", Die Hard With a Vengeance expanded the scope to "New York City" and Live Free or Die Hard expanded the threat to the United States. So as you might have guessed it, Willis says the fifth film would have to go further: "Well it's got to go worldwide."
I completely disagree. I think one of the things that made Die Hard such a great action film was the containment of the story in one building. Die Hard with a Vengence worked, but on an entirely different level (and to be fair, it wasn't even written as a Die Hard script). Live Free or Die Hard suffered from the expansion in scope. It's harder to believe that one guy can save the whole country, without huge help from the police or government agencies. If they do make a fifth Die Hard film, I'd love to seem them bring it back in a bit, contain it in a small location, and bring it back to a character-driven plot where the stakes are more personal.
Could the story work with McClane stuck overseas? Maybe. It would be easy to set him as the American who the Foreign government doesn't care to work for...
source: Riskybiz