'Rubber' Teaser Trailer: A Film About A Killer Tire With Psychic Powers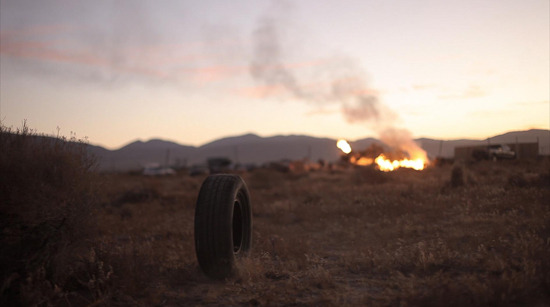 Yep, a killer tire. Yes, it seems like a joke, but is not. Rubber is a film written, shot and directed by Quentin Dupieux, and it will play as a special screening in the International Critic's Week competition (La Semaine de la Critique) at the 2010 Cannes Film Festival later this month. Want to know more? How could you not? Actual footage after the break.
The synopsis offered at the Semaine website goes as follows:
In the Californian desert, an incredulous audience attends a telepathic tire's adventures which is mysteriously attracted by a beautiful young lady. An investigation begins.
Quiet Earth provides an additional translated synopsis from the film's facebook page:
Rubber is the story of a tire named Robert who, after discovering a pile of burning tires, decides to avenge his people by blowing up people's heads ... like tires.
Quentin Dupieux partakes of his primary career under the name Mr. Oizo, an identity through which he creates electro house music. He has also directed a feature called Steak. Last September he announced via Twitter that he would make Rubber as his next film, and so here we are. And if you like tunes that inspire a bit of dancing, or a bit of D.A.N.C.E.-ing, consider that Dupieux has collaborated with Gaspard Augé of the band Justice to create the film's soundtrack.
Of the film, and his approach in general, Dupieux says,
I'm still naïve enough to believe that there is still room for unconscious and format-free films...The too formatted films, structured as emotional machines, annoy me. I like the idea of doing a film on a living tire, with no narrative structure nor dramatic stakes. It's possible! Also, The budget was very limited : I conceived the script, taking into account our means, and I like working like that a lot.
Rubber features Stephen Spinella, Roxane Mesquida, Jack Plotnick, Wings Hauser, Ethan Cohn, Charley Koontz and premieres on Saturday May 15. You can visit the official website, and if you discover the password to see what lies within, please share it with the rest of us. Check out an expanded gallery of still images at Twitch that suggests just how odd this one might get. Can't wait to hear about it.