World Trade Center Writer Penning N.W.A. Biopic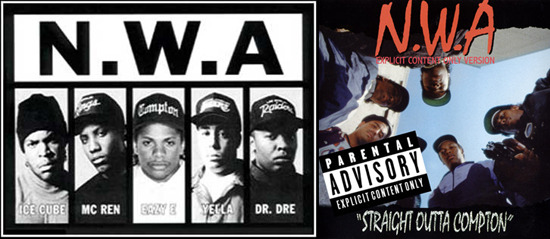 The story of LA rap group N.W.A is a fairly short one, and has been told already through the best means available — their records and the songs and albums that members released after the group started to disintegrate. But what the hell, let's get a biopic together, anyway. Straight Outta Compton, titled after N.W.A's breakout album from 1988, will seek to tell the tale of N.W.A's rise and fall. And why not hire someone who seems, on the surface, like the least likely screenwriter to get things going? So Andrea Berloff, who wrote Oliver Stone's World Trade Center, is drafting the script.
The first reaction a lot of you might have to this news is that it's a bit crazy that a white woman is writing a script about the rappers who helped define the violent, militantly black, sometimes misogynistic image of gangsta rap in the late '80s. But THR reports that N.W.A founding member Ice Cube is producing the film alongside Tomica Woods, the widow of Eazy-E, the N.W.A MC who died of complications from AIDS in 1995. So Berloff, who has a reputation for doing strong work with real-life stories, obviously has their blessing. At which point, the only logical response is, OK, let's see what she can do with it.
So is the movie a good idea? I like the entire story of N.W.A as contained between the still-powerful beats of the songs on 'Straight Outta Compton', and the diss tracks that flew from Eazy-E and other members after Ice Cube left the group when he thought he was getting screwed on royalties. Between those tracks, the later feud between Eazy and producer Dr. Dre,  and the later reconciliation tunes that came about after Cube and Dr. Dre buried the hatchet in the wake of Eazy-E's death, the story is pretty dramatically covered.
Beyond that, do we really need to see a dramatic recreation of Dre attacking Dee Barnes for her coverage of the N.W.A / Cube beef? Doesn't seem like it. Besides, didn't CB4 already cover this?