Movie Trailer: Joe Dante's The Hole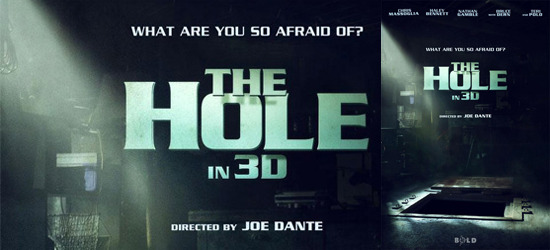 If you don't recognize director Joe Dante's name, than chances are you didn't grow up watching movies in the 1980's. His filmography includes Gremlins, Small Soldiers, The Howling, a segment of Twilight Zone: The Movie, Explorers, Innerspace, and The Burbs. The Hole is Dante's first feature directing gig since Looney Toons: Back in Action.
In fact, you may have read about this project long ago as it was completed in early 2009, and even screened at the 2009 Toronto Film Festival. That is where I saw the film. It is a tame but fun throwback to the PG-13 horror movies from my childhood. This is the type of movie that has sadly disappeared sometime over the last decade or two.
I'm still not sure when or if this film will ever hit theaters, as no release date has been announced. I'm surprised that one of the Hollywood distributors isn't jumping at the opportunity to add another 3D film to their release schedule. And it should be mention that The Hole was filmed in 3D, not post converted.
Watch the trailer embedded after the jump, and leave your thoughts in the comments below.
Official Plot Synopsis:
From director Joe Dante comes a family-friendly 3D thriller that explores the fears and secrets buried deep within the human mind. After moving into a new neighborhood, brothers Dane & Lucas and their neighbor Julie discover a bottomless hole in the basement of their home. They find that once the hole is exposed, evil is unleashed. With strange shadows lurking around every corner and nightmares coming to life, they are forced to come face to face with their darkest fears to put an end to the mystery of THE HOLE.
via: Twitch