Glee's Dianna Agron Joining Cast Of 'I Am Number Four'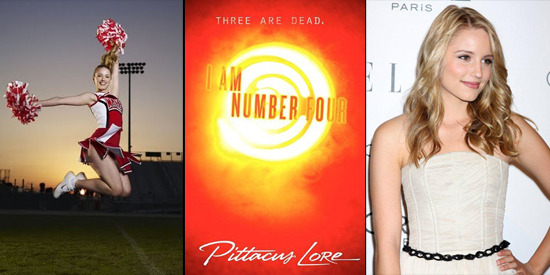 The film adaptation of I Am Number Four, the first book in a sci-fi novel series co-authored by James Frey, became a big deal pretty fast. First it was because the film was rumored to be set up as a project for Michael Bay to produce and, possibly, direct.
Then DJ Caruso (Eagle Eye, Disturbia) was tapped to direct, with Bay and Steven Spielberg producing. Actors have steadily been added to the film, and now we've got one more: Dianna Agron, who has had insane exposure in the last year thanks to her role on Glee.
THR reports that Agron, who was also seen in Heroes and Veronica Mars, will play the female romantic lead in the film. Alex Pettyfer plays John Smith, the title character and Argon's romantic interest. Argon's character is initially dating a jock, but she falls for Smith and he confides to her the truth of his predicament.
Teresa Palmer was recently cast as Number Six, while Sharlto Copley is in the cast as mentor to Pettyfer's character.
Here's the synopsis of the book:
The story is about a group of nine children from a planet called Lorien who have been attacked by a hostile race from another planet. The nine children and their guardians evacuate to earth, where three are killed. The protagonist, a Lorien boy named John Smith, hides in Paradise, Ohio, as a human and tries to evade his predators.
James Frey (A Million Little Pieces) wrote the book with Jobie Hughes under the name Pittacus Lore. It was immediately the subject of interest in Hollywood (high-concept teen-oriented stuff with franchise potential? ka-ching!) and DreamWorks snapped it up. Note that this first volume hasn't even been published yet. Principal photography on the film may be done by the time it hits stands.
The script is by Al Gough and Miles Millar (Smallville), and the production is moving fast. Cameras roll next month in Pittsburgh.