Secretariat Movie Trailer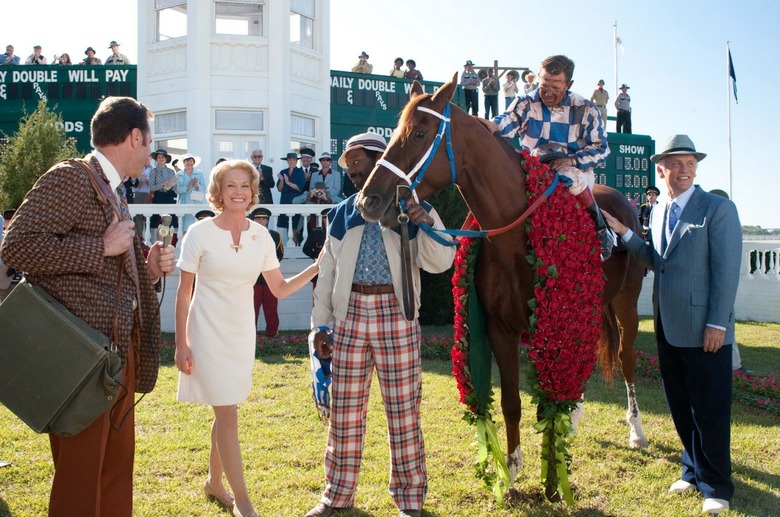 Walt Disney Pictures have released a movie trailer for Secretariat, a horse-racing drama about "three people whose lives intersected, thanks to the champion horse Secretariat." For those of you, like me, who don't follow horse-racing history: Secretariat is... possible spoiler warning (I guess? Is history a spoiler? And isn't the achievement of a true story part of the reason we want to see the film adaptations?)... one of a few horses to win the Triple Crown of the Kentucky Derby, Belmont Stakes and Preakness Stakes.
The film is directed by Braveheart writer Randall Wallace. The movie stars  John Malkovich as Lucien Laurin, the former horse jockey who became Secretariat's trainer.  Diane Lane plays Penny Tweedy, owner of Meadow Farm, a horse breeding business in Virginia that was founded by her father Christopher.
Watch the trailer embedded after the jump. Leave your thoughts in the comments below.
Based on the impossible true story, SECRETARIAT chronicles the spectacular journey of the 1973 Triple Crown winner. Housewife and mother Penny Chenery (DIANE LANE) agrees to take over her ailing father's Virginia-based Meadow Stables, despite her lack of horse-racing knowledge. Against all odds, Chenery—with the help of veteran trainer Lucien Laurin (JOHN MALKOVICH)—manages to navigate the male-dominated business, ultimately fostering the first Triple Crown winner in 25 years and what may be the greatest racehorse of all time.
There are many exciting plans for SECRETARIAT surrounding this weekend's Kentucky Derby – The Kentucky Derby Festival has announced that actress Diane Lane and Secretariat owner Penny Chenery will serve as Grand Marshals of the 2010 Republic Bank Pegasus Parade on Thursday, April 29 following a press conference that will be held earlier that day [tip sheet attached]. Retired jockey Ron Turcotte, who rode Secretariat to horse racing's Triple Crown in 1973, will also be honored in the Parade.
Notes:
* In 1973, Secretariat became the first U.S. Triple Crown champion in 25 years, setting race records that still stand today in the Kentucky Derby and the Belmont Stakes.
* Penny Chenery, now 87, is an integral resource in the making of the film. She also appears as an extra in one of the film's scenes.
* In 1973, Secretariat graced the covers of three magazines the same week: Time, Newsweek and Sports Illustrated.
* Director Randall Wallace, whose directorial credits include "We Were Soldiers," is the Oscar®- and Golden Globe®-nominated screenwriter of "Braveheart."
* In 1999, the U.S. Postal Service unveiled a 33-cent postage stamp with Secretariat's image.
Secretariat hits theaters on October 8th, 2010.