Green Lantern Screenwriter To Pen 'Leonardo Da Vinci And The Soldiers Of Forever' For Warner Bros.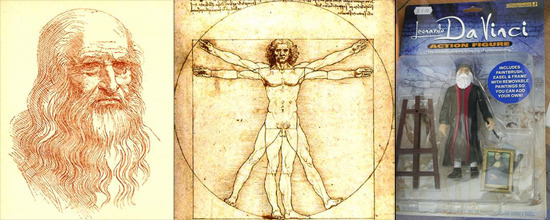 Did you ever watch Hudson Hawk and think, "man, Leonardo Da Vinci really got screwed out of a chance for action stardom"? If so, you're one of about five people, but Warner Bros. still has you covered. The studio is moving forward on Leonardo Da Vinci and the Soldiers of Forever, which Green Lantern writer Marc Guggenheim will use to recast the Renaissance artist and inventor as an action hero.
THR notes that WB bought the pitch for this project just over a month ago, from producers Adrian Askarieh, Roy Lee and Doug Davison. Now the studio is putting the Green Lantern screenwriter (and former FlashForward showrunner) on both this one and Thieves of Baghdad, which is described as a kind of Ocean's 11 meets Arabian Nights. Yep, high concept rules.
But there's a part of me that thinks, as silly as the Da Vinci idea is — and it is very, very silly — it could also be a fun movie. Adrian Askarieh's story and original treatment has Da Vinci as "a member of a secret society who falls headlong into a supernatural adventure that pits the man against Biblical demons in a story involving secret codes, lost civilizations, hidden fortresses and fallen angels."
(I didn't mention Hudson Hawk — another silly, fun and, yeah, rather bad movie — for nothing. Can we get Richard E. Grant for this one, too?)
The trade, meanwhile, throws out Raiders of the Lost Ark and National Treasure as comparison points, but I'd think that would be obvious. I just hope we get action movie Da Vinci with a long, white beard. Just to break the typical rugged hero mold, mind you. At least old Leo had all those designs for flying machines and the like, which make obvious fodder for setpieces.
Meanwhile, Thieves of Baghdad has "Sinbad, Ali Baba and all the greatest scoundrels from the classic Arabic folk tales team up to pull off the biggest heist of their criminal careers."