IMAX Signs 20-Film Deal With Warner Bros: Release Plans Revealed For Superman, Batman 3, The Hobbit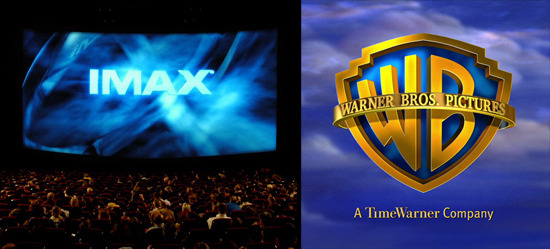 UPDATE: According to THR, the Hobbit date listed in IMAX's press release is a mistake. The first film in the two-part release is set for December 2012, and the second for December 2013, according to the trade. Original article follows:
Warner Bros. and IMAX have had a successful partnership over the last few years, and now the two companies have announced that they will work together on up to twenty more films through 2013.
As part of the announcement, there are a few details on notable films. One is a release date for The Hobbit (December 2013) and another is the first 'official' acknowledgment of Batman 3, which is mentioned as one of the 'additional 15 films' to be released in IMAX between 2011 and 2013 alongside Superman and Dark Shadows. Note that this press release comes from IMAX, not Warner Bros., but this still reveals a window of release for the new Batman and Superman films.
Details in the full press release after the break.
IMAX Corporation and Warner Bros. Pictures, a unit of Time Warner Inc., announced today that they have completed an agreement to release up to 20 Warner Bros. films in IMAX's format over the course of the next three and a half years (from 2010 through 2013). The agreement strategically aligns Warner Bros.' tent-pole business with the increasing worldwide popularity of The IMAX Experience(R) in both 2D and IMAX(R) 3D, providing the studio with an added distribution platform that consistently delivers strong box office returns. The agreement underscores the excitement around the studio's future films which are anticipated to be among the best Hollywood event titles slated for release in the coming years.Under the agreement, Warner Bros. movies that will be released in IMAX are: Legends of the Guardian: The Owls of Ga'Hoole 3D (September 24, 2010); Harry Potter and the Deathly Hallows: Part 1 (3D) (November 19, 2010); Harry Potter and the Deathly Hallows: Part II (3D) (July 15, 2011); Happy Feet 2 (3D) (November 18, 2011); and The Hobbit (December 2013). Warner Bros. and IMAX also plan to release an additional 15 films over the course of 2011, 2012 and 2013, including Gravity, Dark Shadows, Fury Road, Batman 3, and Superman."Our track record with IMAX has been incredible, and incorporating 3D into this collaborative effort will serve as the ultimate experience for our audiences," said Dan Fellman, President, Domestic Distribution, Warner Bros. Pictures. "We are extraordinarily proud of our forthcoming slate and eager to offer these films to audiences in the most premium of movie-going experiences.""We're thrilled to join with IMAX in bringing global audiences new and exciting experiences through the 3D IMAX format," said Veronika Kwan-Rubinek, President, International Distribution, Warner Bros. Pictures. "We have a tremendously powerful slate of quality tentpole films, and as IMAX theaters continue to expand internationally, more and more audiences will have the opportunity to experience our films using this exciting format.""Warner Bros. is and has been an important strategic partner for IMAX. The success of our partnership to date is a result of our integrated approach to marketing and release strategies, and we believe this formula will lead to more box office success in the future," said Richard L. Gelfond, CEO of IMAX. "Our digital theatre system has accelerated the growth of our theatre network and provides us with significant flexibility in the release and programming schedule in our theatres. This important announcement provides increased visibility into our future film slate, enabling existing and potential exhibitors to better know what's 'coming soon' in their IMAX(R) theatres.""IMAX has a deep appreciation for Warner Bros.' approach to the film business; they consistently work with the industry's most talented filmmakers, produce and release blockbuster films that captivate global audiences and make going to the movies a fun, powerful and inspiring experience," said Greg Foster, Chairman and President of IMAX Filmed Entertainment. "We are confident that continuing to team with Warner Bros. to distribute market, promote and showcase their 'all-star' titles in IMAX will delight movie-goers around the world and achieve box office and critical success that will benefit our two companies and our exhibitor partners."Since June 2003, Warner Bros. Pictures has released 25 titles in IMAX's format, 10 of which featured IMAX 3D, including several live action pictures that were partially converted into 3D with IMAX's proprietary 2D-to-3D conversion technology. Warner Bros. films have generated approximately $565 million in box office revenues at IMAX theatres around the world. Each Hollywood title was digitally re-mastered into the image and sound quality of The IMAX Experience using IMAX's proprietary IMAX DMR(R) (Digital Re-Mastering) technology. Also included in the tally are the studio's four original IMAX 3D co-productions, "NASCAR 3D" (2003), "Deep Sea 3D" (2008), "Under the Sea 3D" (2009) and "Hubble 3D," in select IMAX theatres now.