This Week In DVD & Blu-Ray: The Imaginarium Of Doctor Parnassus, It's Complicated, District 13: Ultimatum, The Descent: Part 2, And More
We may receive a commission on purchases made from links.
This Week in DVD & Blu-ray is a column that compiles all the latest info regarding new DVD and Blu-ray releases, sales, and exclusive deals from stores including Target, Best Buy and Fry's.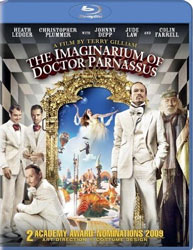 THE IMAGINARIUM OF DOCTOR PARNASSUS
I'm conflicted. Deeply, deeply conflicted. I'd really love nothing more than to tell you that The Imaginarium of Doctor Parnassus is wonderful—that it's an impressive return-to-form from the man who gave us such enchantingly peculiar films as Brazil, Time Bandits and The Adventures of Baron Munchausen. Had things worked out differently, I imagine that I'd be telling you just that. They didn't though, and so here I am, forced to contend with the realization that this film might've been great were it not for Heath Ledger's untimely passing. Most readers of this site are probably already aware of the immediate effect that Ledger's death had on the film; since the filming of his scenes in the "imaginarium" had not yet taken place, Gilliam was forced to invent a scenario that allowed others actors (Johnny Depp, Jude Law, and Colin Farrell) to fill in for the role. In theory, this sounded like an ingenious workaround for what should've been a project-terminating disaster. In reality, the best that can be said of the workaround is that it allowed for the film to be completed. The worst? It caused total narrative chaos. The nature of the character's changes in appearance come across as awkward and forced, but more than that, they completely sever any connection the audience has with him. As a result, the scenes in the imaginarium—many of which are pivotal—lose all impact, and bring a halt to the momentum built up by the rest of the film. This is even more problematic in that the imaginarium sequences also lack any visual appeal, instead recalling the same eye-blistering green screen artificiality found in The Lovely Bones and Spy Kids 3D: Game Over. Outside of the imaginarium, the film fares much better. It still suffers a bit from Gilliam's typical plotting messiness, but the story is so charmingly bizarre—and so distinctly "Gilliam"—that it quickly won me over. Had the narrative incoherence brought on by the imaginarium sequences not derailed the film, I suspect this would've been another seminal effort to add to Gilliam's filmography. Regrettably though, the unfortunate realities of "life" once again got in the way of Gilliam's efforts, making this strictly a film for curious and/or diehard fans.
Available on Blu-ray? Yes.Notable Extras: DVD – Commentary with director Terry Gilliam, an intro by Gilliam, a deleted scene, featurettes ("Behind the Mirror", "Building the Monastery", "Doctor Parnassus Around the World", "The Artwork of Doctor Parnassus"), a Heath Ledger Wardrobe Test, an interview with Heath Ledger, and a Cast & Crew Presentation on Stage. Blu-ray – Includes everything on the DVD, as well as "The Drunk" Multi-Angle Progression Sequence, and 2 additional featurettes ("Heath Ledger and Friends", "The Imaginarium of Terry Gilliam").
BEST DVD PRICE
Target
Best Buy
Fry's
$19.99
$17.99
$19.99
Amazon – $17.99
BEST BLU-RAY PRICE
Target
Best Buy
Fry's
$25.19
$24.99
$19.97
Amazon – $22.99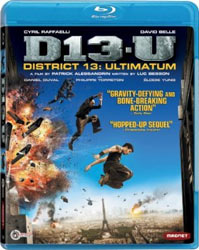 DISTRICT 13: ULTIMATUM
District 13: Ultimatum delivers more of the same—more balletic, over-the-top fight sequences, more ridiculous parkour stunts, and more comically absurd, cliché-heavy plotting. Like most unambitious sequels, it's essentially a recycled version of the first film, with the sole variation being the action scenes. As long as you're not expecting anything else, it serves its purpose just fine. Of particular note is a highly inventive (and equally silly) fight/chase sequence early on in the film, in which the cop protagonist is trying to protect a Van Gogh painting while fending off bad guys... with the painting.
Available on Blu-ray? Yes.Notable Extras: DVD & Blu-ray – Deleted and extended scenes, a making of featurette, production diary segments, and a music video.
BEST DVD PRICE
Target
Best Buy
Fry's
$21.29
$16.99
N/A
Amazon – $14.49
BEST BLU-RAY PRICE
Target
Best Buy
Fry's
$22.89
$19.99
$22.99
Amazon – $19.49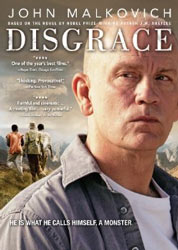 DISGRACE
I was profoundly affected by Disgrace. The film tackles its weighty subject matter and themes with a level of thoughtfulness rarely seen in cinema—understandable given that it's based on a Nobel Prize winning book. John Malkovich plays David, a professor in post-Apartheid South Africa whose casual fling with a student costs him his job. That much I knew going into the film, but I was not at all prepared for what would happen next. I won't go into detail other than to say the story takes a brutal and disturbing turn, and the impact of this event provides a harsh contrast to David's ostensibly innocuous student affair. Disgrace deals heavily with the varying levels of exploitation, and shows that no matter what the situation, there are no simple answers. It isn't always an easy watch—sometimes it's downright infuriating—but the characters are so real, and Malkovich's performance so gripping, that I always found myself eager to see where the character's decisions would take them.
Available on Blu-ray? Yes.Notable Extras: DVD & Blu-ray – "Disgrace: Behind The Scenes" featurette, and interviews with cast and crew.
BEST DVD PRICE
Target
Best Buy
Fry's
$21.99
$24.99
N/A
Amazon – $26.49
BEST BLU-RAY PRICE
Target
Best Buy
Fry's
$27.79
$34.99
N/A
Amazon – $30.99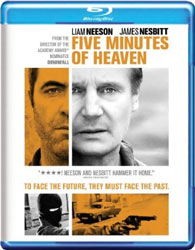 FIVE MINUTES OF HEAVEN
Five Minutes of Heaven is a slight film—well meaning, well acted, and well made, but with precious little to say other than the obvious. The tale—a fictionalized spin on a historical event—follows two men, meeting for the first time after 33 years, when one of them killed the other's brother. Even at less than 90 minutes, the film is pushing its runtime. If it weren't for the lead performances by Liam Neeson and James Nesbitt, it probably wouldn't be worth the investment. Once you get past the very solid first act (depicting the actual murder), much of the film is spent trying to sustain tension prior to the two men meeting. Neeson and Nesbitt are strong enough to keep it engaging, and director Oliver Hirschbiegel (Downfall) ably handles the build-up, but without anything fresh to say on the topics of revenge, guilt and forgiveness, the movie fails to resonate in the way it hopes to.
Available on Blu-ray? Yes.Notable Extras: DVD & Blu-ray – Behind-the-scenes featurette.
BEST DVD PRICE
Target
Best Buy
Fry's
$15.79
$14.99
N/A
Amazon – $14.99
BEST BLU-RAY PRICE
Target
Best Buy
Fry's
$22.59
$19.99
$23.85
Amazon – $22.99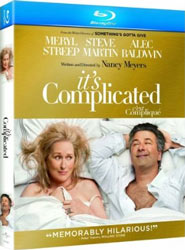 IT'S COMPLICATED
It's Complicated exists in a universe entirely its own. In it, everyone is wealthy, everything is beautiful, and life's biggest problems are trying to pick between the two guys who desperately want to f**k you. One of the major conflicts of the film consists of Meryl Streep's character worrying about the expansion of her enormous, gorgeously designed kitchen. On weekends, her three impossibly perfect children come home to snuggle on the couch with a blanket and popcorn while shedding tears to The Graduate. On her downtime, she sips wine with her adoring friends while giggling playfully about acting like "such a slut". If any of this sounds appealing to you, then we are very different people. I absolutely loathed this movie, unable to relate to or care about any of the film's simple-minded characters or its shallow, sitcomish portrayal of relationship conflicts. Side note: I never in my life thought I'd hear 16-time Academy Award nominated actress Meryl Streep utter the words, "I like a lot of semen," but It's Complicated graciously provides her that opportunity.
Available on Blu-ray? Yes.Notable Extras: DVD & Blu-ray – A commentary with producer/writer/director Nancy Meyers and crew, and a "Making of: It's Complicated" featurette.
BEST DVD PRICE
Target
Best Buy
Fry's
$16.99
$17.99
$15.97
Amazon – $16.99
BEST BLU-RAY PRICE
Target
Best Buy
Fry's
$24.99
$24.99
$29.35
Amazon – $24.99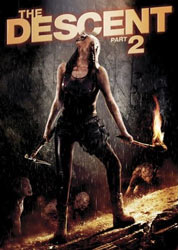 THE DESCENT: PART 2
Watching this movie would be conceding that it exists, and that's something I refuse to do. The original Descent (Director's Cut, natch) is among my top 3 favorite horror films, right alongside The Thing and The Mist. I love everything about it, from its uniquely all-female cast to its brilliant use of atmosphere & lighting to its superbly executed exploitation of society's greatest fears (i.e., darkness, enclosed spaces, heights, monsters). Most of all, I love the note it ends on—I love how profoundly sad and haunting that lingering final shot is. It only makes sense then, that somebody would make a sequel that manages to completely undermine everything that made the original's ending so great. Viewing the film isn't even required; simply read the plot synopsis, and presto, the ending is ruined. What fun.
Available on Blu-ray? No.Notable Extras: Audio commentary with director Jon Harris and actors Shauna MacDonald, Krysten Cummings and Anna Skellern, deleted scenes, a "Making of The Descent: Part 2: Deeper and Darker" featurette, and storyboards.
BEST DVD PRICE
Target
Best Buy
Fry's
$21.99
$19.99
N/A
Amazon – $19.99
Other noteworthy DVD (and Blu-ray) releases this week...Transylmania – Ride with the Devil (The Criterion Collection) [DVD / Blu-ray] – The Fugitive Kind (The Criterion Collection)Noteworthy Blu-ray-specific releases this week...Armageddon – Dune – Tombstone – Traffic – Elizabeth – Elizabeth: The Golden Age – Out of Africa – The Jackal

NOTES: Some deals may be in-store only. All deals are for DVDs unless otherwise noted.

$9.99 DVD or $16.99 Blu-ray – Observe and Report, Orphan$12.99 DVD or $17.99 Blu-ray – Public Enemies, Funny People, 9, A Perfect Getaway, Smokin' Aces 2: Assassin's Ball