First Footage From Jonah Hex Shows Scars, Gatling Guns And Explosions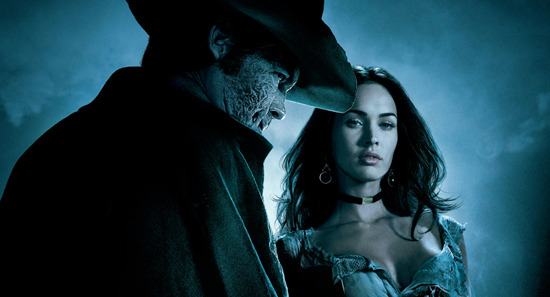 There have been reshoots and delays, but Warner Bros. will still release Jimmy Hayward's Jonah Hex, starring Josh Brolin, Megan Fox, John Malkovich and Michael Fassbender, on time. A trailer will premiere later this week, but in the meantime there's a small teaser montage available via SyFy. It resembles the footage we saw last year at Comic Con, and you can see it after the break.
I honestly can't tell what material in this clip is new and what was part of the reel shown at Comic Con last year, but that might not be a bad thing — obviously we hope the newer material will mesh well with the stuff that was shot prior to Comic Con. But this clip is so brief and so quickly edited that it's hard to discern much at all beyond scar, guns, explosion, Megan Fox, explosion, crossbow, title card. As a teaser for a trailer, that's more or less to be expected.
But I can go back to what I thought when we saw that footage last summer, which was: this doesn't look bad, as a fun genre adventure picture. The scope of Hex certainly looked a lot bigger than I expected after reading the script, and I'm enough of a Brolin fan that I'm willing to give him the benefit of the doubt. I don't need Hex to be any sort of masterpiece; just a good time will suffice. That's easier said than done (hello, Clash of the Titans), but if the disparate elements of this supernatural western comic book adaptation can come together, I'll be satisfied.
Sadly, there's no hint of the score here; hoping that surfaces in the trailer when it hits this coming Thursday.
[via Movieline]