Box Office: How To Train Your Dragon Returns To #1, Kick-Ass Falls To #5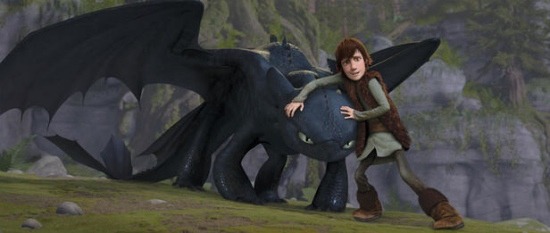 The weekend box office estimates are in, and we have some good news and some bad news:
The bad news: Word of mouth did not help Lionsgate's Kick-Ass, the comic book adaptation dropped an estimated 52% in its second weekend at theaters. In fact, it will place #5 on the Box office results listing this weekend with only $9.5 million in 3,065 theaters.
The good news: The word of mouth buzz on How To Train Your Dragon continues to draw more and more people to the theater. In its fifth weekend of release, the film took over the #1 spot with an estimated $15 million, overtaking new releases like The Back-Up Plan ($12.25 million), The Losers ($.6 million) and Disney's Oceans ($6 million).
In limited releases, one of my favorite films of the year thus far, Exit Through The Gift Shop, packed $13,545 per screen, for a total of $149,000 — not bad for a movie playing in only 11 theaters. To give you a comparison, Kick-Ass made $3,100 per screen this week — but yes, A LOT more screens.
Below you will find the top 10 results thanks to Box Office Mojo:
TW
LW
Title
Studio
Weekend Gross
% Change
Theater Count /
Change
Average
Total Gross
Budget*
Week #
1
2
How to Train Your Dragon
P/DW
$15,025,000
-23.5%
3,665
-160
$4,100
$178,021,000
$165
5
2
N
The Back-Up Plan
CBS
$12,250,000
-
3,280
-
$3,735
$12,250,000
$35
1
3
3
Date Night
Fox
$10,600,000
-36.6%
3,294
-86
$3,218
$63,471,000
$55
3
4
N
The Losers
WB
$9,605,000
-
2,936
-
$3,271
$9,605,000
$25
1
5
1
Kick-Ass
LGF
$9,500,000
-52.1%
3,065
-
$3,100
$34,870,000
$30
2
6
5
Clash of the Titans (2010)
WB
$9,000,000
-41.5%
3,271
-482
$2,751
$145,639,000
$125
4
7
4
Death at a Funeral (2010)
SGem
$8,000,000
-50.7%
2,459
-
$3,253
$28,449,000
$21
2
8
N
Oceans
BV
$6,000,000
-
1,206
-
$4,975
$8,466,000
$80
1
9
6
The Last Song
BV
$3,700,000
-37.9%
2,794
+27
$1,324
$55,398,000
$20
4
10
8
Alice in Wonderland (2010)
BV
$2,200,000
-39.8%
1,385
-639
$1,588
$327,473,000
$200
8