Tribeca Film Festival Review: Straight Outta L.A. (A Doc On The L.A. Raiders And N.W.A.)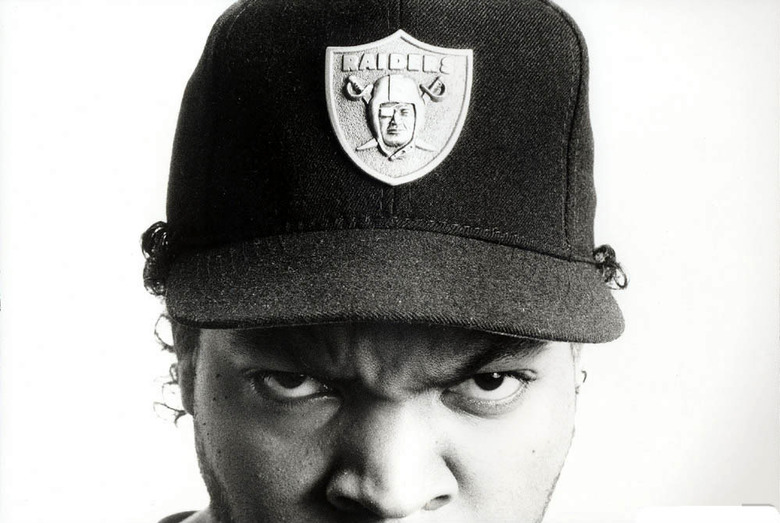 The ESPN documentary series, 30 for 30, continues a phenomenal and original run at uniting fans of sports history and cinema with Straight Outta L.A. Directed and narrated by Ice Cube, in O.G. gruff mode, the doc examines the stylistic endorsement of the Los Angeles Raiders in the mid-to-late '80s by West Coast gangsta rap pioneers N.W.A., and proposes that Cube's group cultivated everlasting, if unsolicited, street cred for the franchise as a multi-billion dollar brand. At this point in Ice Cube's movie and music career, I was skeptical going in. Would his contribution to 30 for 30 play like self-serving promotion for N.W.A.'s back catalogue and the NFL's fat merchandising arm? There's a little hustle on hand, sure, but overall I enjoyed this well-organized, brisk look at the fashionable assimilation of a corporate/athletic identity by young black artists...with attitude.
For any guy who owned/stole a "Real Men Wear Black" t-shirt, more than one Starter jacket, or Dr. Dre's The Chronic in the early '90s, Straight Outta L.A.'s subject matter is enticing and nearly irresistible. This mix of enthusiasm and nostalgia is sensed in several of the interviewees enlisted from the world of old school hip hop (Ice-T, MC Ren) and Raiders' record books (Howie Long, Marcus Allen). And Ice Cube goes the extra step by speaking with journalists, city employees, and figure-loving merchandising guys from the era. The biggest catch is his interview with aging "maverick" Raiders owner, Al Davis, regarding the team's legacy and its controversial move from Oakland to L.A. and back again. (Note: Darth Vader after the jump.)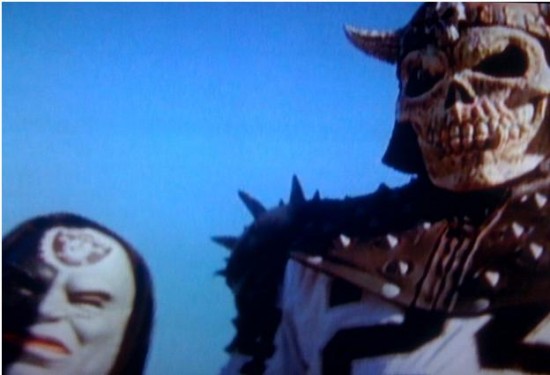 One of the admirable aspects of the 30 for 30 series is the consistency with which each installment tackles the provocative social complexity for a given subject or period in sports. In the recent, illuminating No Crossover, Allen Iverson's fiery ego and his alleged involvement in a racially charged brawl and resulting criminal charges while in high school take center stage; in Run Ricky Run (airing this week), Miami Dolphins running back Ricky Williams talks intimately about his well known marijuana use and his eccentric disinterest in money, if not Americanized life in general. In this entry, Cube addresses why N.W.A. and L.A. gangs gravitated to the outlaw aesthetic and winner-rage of the Raiders, and he walks touchier ground when drawing parallels between the melting pot ethnicity, loyalty and violence of Raiders players and fans to that of the Bloods and Crips.
In an interview conducted mid-field, Snoop Dogg theorizes thugs preferred the Raiders' imagery because, "football is a little bit meaner and a little more more nasty," and whenever a Raiders' season ended, he posits, N.W.A.'s "season" kept going until they were synonymous with the brand. People bought Raiders merchandise not necessarily because they liked or even followed the team, but because they aspired to rep like a suburbanized Eazy-E. Unlike the flashy colors of the L.A. Lakers or the dookie chains and loud fashion of NYC's LL Cool J, the team's weapon-friendly logo, the criminal air of their name, and their primary color, black, were "a perfect match" for gangsta mentality. N.W.A. also rocked the caps of the L.A. Kings, but only because the hockey team, to Al Davis's disapproval here, copied the Raiders' look to increase sales. It worked.
In several interviews, it's amusing to see grown men (N.W.A.'s MC Ren; USC School of the Cinematic Art's Todd Boyd) stumble back to the same conclusion: black is, well, black. Gangs were partial to the combination of silver and black because the colors looked "hardcore" and at the time they weren't associated with a specific clique. The irony is that Raiders gear became so ubiquitous with criminal activity that schools banned it outright.
[The Raiders] were the Darth Vader of the league. They were mysterious. They were strong. They were black. And they were connected to the music business. –  David Beckerman, Starter Corporation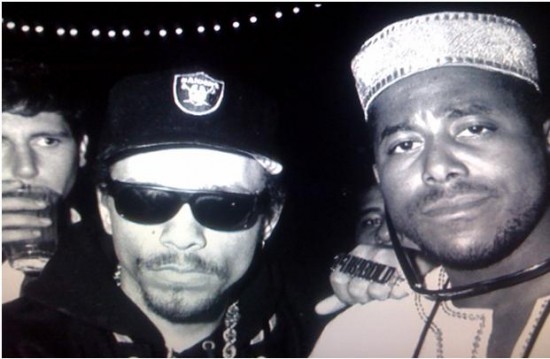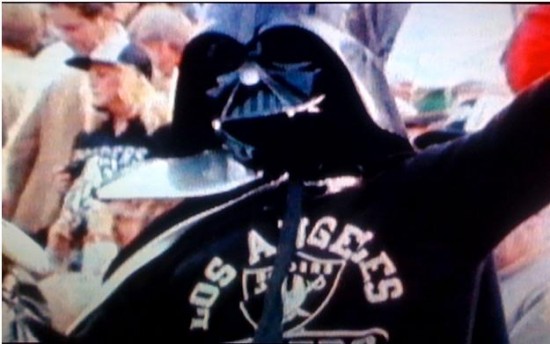 In weaving a doc about a legendary rap movement, race riots and hell raising in the context of big city football fandom, Straight Outta L.A. never reaches the frenetic heights of another 30 for 30 entry (and still the best one in my opinion), The U, but this film is far more about the power of image than history and the game/music itself. As Chuck D discusses, West Coast rap was at a disadvantage from the get-go because NYC is where rap began and flourished. But N.W.A. smartly used its proximity to Hollywood to project images and videos of nearby Compton's "realness," just as the Raiders capitalized on the exported limelight to package and sell their bad boy image, which actually started in Oakland under coach John Madden (who gives a new interview) and barbaric players like John Matuszak. In the many snapshots of Raiders fans (exemplified above), there's an undeniable undercurrent of heightened fantasy and the influence of movies. Interlaced with '80s crimewave footage, the modern man is presented as quite the specimen.
One of the funnier interviews is with British/Hollywood director, Rupert Wainwright, who directed N.W.A.'s landmark "Straight Outta Compton" video (included below), which is largely responsible for the group's iconic Raiders-inspired fashion statements...
Directing rap videos at the time was definitely like the lowest of the low in terms of a white video director. Everyone wanted big budgets with Poison and Metallica and all of that stuff. All of my white friends were like, 'You're directing another rap video? I'm so sorry.' About the time that N.W.A. hit, there was this sea change. Suddenly within three months all of my white friends were like, 'Yo! What's up Rupe! Can I come hang with you on the set. Suddenly, it's like they all went bro on me."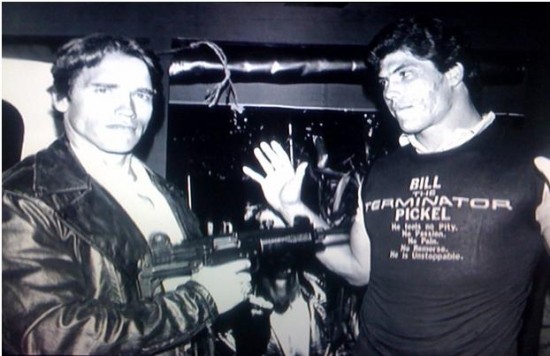 Like an unexpected dash of cilantro on the screen, a segment about the formation of N.W.A. is animated by No Mas, the guys responsible for the recent YouTube hit,  "Dock Ellis and the LSD No-No" ...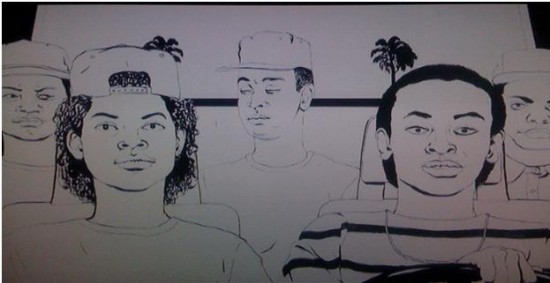 Ice Cube narrates the scenes, which show him doing homework with a Jheri curl, befriending Andre Young aka Dr. Dre, and hanging in Eazy-E's garage where the following conversation about their name evidently occurred. If I had to pick the doc's crowdpleaser moment, this is it...
And then Eazy saved the day. He said, "How about N.W.A.?"
We were like, "What that mean?"
He was like, "Niggas with Attitudes"...
We were like, "Hell. Yeah."
For old time's sake...
For more info, visit the Tribeca Film Festival page for Straight Outta L.A. and the official 30 for 30 website...
Hunter Stephenson can be followed on Twitter. To send him info about a TFF-related event or screening: h.attila/gmail.