The Last Airbender And Green Hornet Were Planned And Shot For 3D?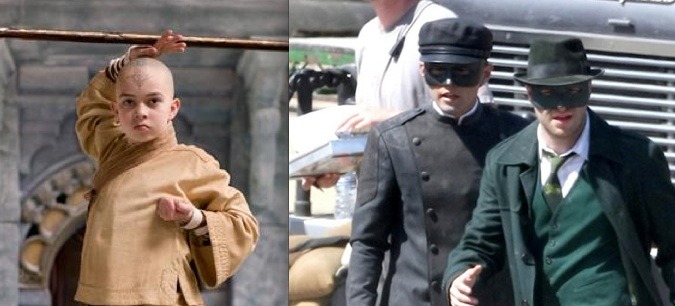 If you've seen the hideous monstrosity that is Clash of the Titans, replete with its horrendous and eye-torturing attempts at 3D imagery, you probably don't have much love at all for post-production dimensionalisation. I've seen the online reaction to two upconvert projects that have been announced in just the last 24 hours, Michel Gondry's Green Hornet film and M. Night Shyamalan's The Last Airbender, and it wasn't pretty.
Now, though, key creative personal on each movie have issued statements to the effect that these films were actually planned and possibly even shot for 3D, though don't confuse that for them actually being shot in 3D. I'll give you the quotes after the break, so you can judge for yourself if we're being told the truth, the whole truth and nothing but the truth.
Evan Goldberg, Michel Gondry and myself could not be more excited about going 3D. The truth is that this is something that we have wanted since the very first conversations we all had about the film. A lot of the visually driven sequences Michel came up were first conceived for a 3D movie...
...What gets me most excited is the fact that Gondry is so enthusiastic about it. I think that Gondry's visuals done in 3D will give us something we've never seen before.
Taking the stand for The Last Airbender is producer Frank Marshall who tweeted:
We have been looking at the 3-D for months. The movie was designed to take advantage of the conversion and the filmmakers will supervise.
In other news, Pee Wee Herman fell off of his bike, but it's okay. He meant to do that.
Now, notice that it was not the director speaking up in either case, but a producer. Probably means nothing. I don't want to sound like a proponent of auteurism or anything.
In truth, even if these films were devised as 3D pieces but the execs didn't allow for them to be shot in 3D and are only now allowing a compromised solution in face of financial trends, the suits have stiffed the filmmakers. One way or another, Gondry, Shyamalan and their collaborators have been done over by their studios.
The happy endings here would see the films be brilliantly realised and upconverted beautifully. I'm sure that both Gondry and Shyamalan are more than capable of making good things from the adaptation to 3D, at least providing if their post production partners are up to it. And if Gondry really is excited, and Shyamalan really is on board, then so am I.
Some of the first modern 3D films I saw were, in effect, dimensionalisations and none of those affronted my sensibilities in anything like the way Clash of the Titans did. What's more, the up-converted Nightmare Before Christmas was quite lovely. Of course, I don't think a 2D-to-3D conversion is necessarily going to render a film grossly unwatchable, or even mildly mauled... but it is always going to be a fear, now, I think. Clash of the Titans has become, for me at least, some kind of terrible milestone, a film of no interest of any kind except for how atrociously badly it was reprocessed for stereo viewing.