Jack Nicholson To Star In LASt VEGAS, Aka 'The Hangover Meets Gumpy Old Men?'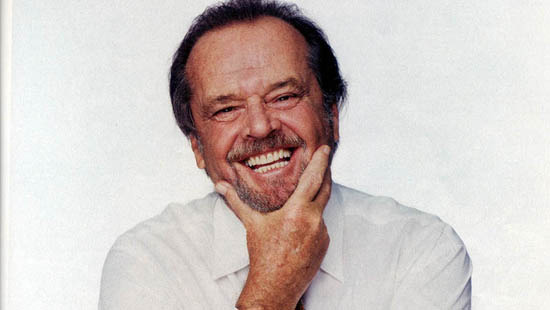 Hollywood is even more youth-obsessed than usual of late, so the very fact that a studio might make a film that could be vaguely compared to Grumpy Old Men is enough to make me happy. Dan Fogelman, the screenwriter behind the Steve Carell / Ryan Gosling comedy that still doesn't have a name, has a script called LASt VEGAS (spelling and caps intentional) that follows four friends from the '50s who reunite in Vegas. An offer has reportedly gone out to Jack Nicholson to play the central role in what is already being called Grumpy Old Men meets The Hangover.
Vulture reports the offer, saying that the script kicks off with the reunion motivated by the impending marriage of Billy, the group's lifelong unmarried playboy. That would be Nicholson's role. He won't be in Justin Bartha's place in this one — that is, the guy motivating the Vegas trip won't disappear for most of the movie.
While in Vegas, Billy and his widower friend Paddy start to fall for the same lounge singer. That kicks off the real comedy and conflict, according to Vulture. (I'm not sure, then, if Nicholson's character is set to be married in Vegas and then eyes the lounge singer, or if they go to Vegas looking for a wife for him.)
The site has a script excerpt that introduces Billy, described as a "mischievous imp." Here's his dialogue:
.. and you remember what I said, Ronnie? I said: "Ronnie, I know you're down in the dumps. But as a fellow bachelor, let me assure you – you'll bounce back. Because you may not be very smart, and you may not be very rich, but Pal: you sure are fucking ugly."
Turns out, he's giving a eulogy for Ronnie, not roasting him.
So, a couple of things: first up, this is just an offer of the role, and Nicholson might not take it. The basic description and bit of dialogue sounds as if the role was written with him in mind, so if we're lucky, the rest of the script would play to his strengths rather than just putting him in 'crazy old man' mode. Then, who gets cast as the other guys, and as the singer? There's a chance here for some juicy comedy parts to go to actors who don't usually get them these days.