Seth Rogen And Chris Pine In Talks For McG's This Means War?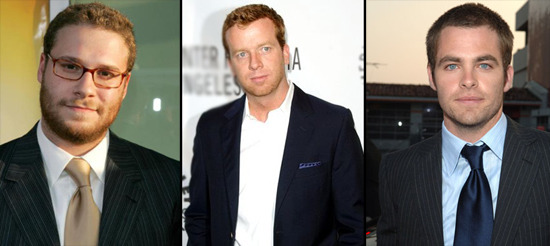 [Update: The Wrap now have the updated logline for the film. It now reads: "Two best friends, both of whom are spies, go to war with each other after falling in love with the same woman. It's about what's more important -- your best friend or the love of your life -- and what happens when the two come into conflict with each other." Original story follows.]
The big-budget romantic comedy This Means War, which comes complete with scenes of city destruction, has been in the works at Fox for a long time. It was once a Martin Lawrence film, and several directors have been attached over the years.
Now This Means War has McG attached to direct, as we've reported before, and Reese Witherspoon set to star. At one point Bradley Cooper seemed set to play the male lead, but now Fox is interested in other actors, including Seth Rogen and Chris Pine.
The Wrap runs down a number of options for the film after Production Weekly ran a list of actors in whom the studio is interested for the role. According to The Wrap, only Rogen and Pine are really the guys right now — PW mentioned Robert Downey Jr and Matt Damon, who are supposedly not actual options.
There are two lead male roles in this one. The story has "two best buddies whose friendship is put to the test when a woman moves into their spare room. As they fight for her affections, New York City is literally left demolished in their wake — including such landmarks as the Empire State Building and the Statue of Liberty."
Bradley Cooper had one of those two roles, but dropped out either over scheduling problems or creative concerns, depending upon the source you choose. Meanwhile, James Franco was offered one of the roles and passed. Rogen and Pine are supposedly being courted for the same role (a character named FDR) which suggests that the studio is all over the map casting this one. It's a very different movie depending on which guy gets cast. The Wrap does say that Rogen could instead take the role that Franco was offered, which says the studio really wants 'ruggedly handsome and funny,' but will settle for funny if that's all they can get.
So...Fox has plans for a huge movie and no one who wants to star in it? Tim Dowling (Role Models) is rewriting the script right now, though I'm not sure if that is in response to Cooper's 'creative concerns,' or the source of them.